Online:Fallen Wastes
The UESPWiki – Your source for The Elder Scrolls since 1995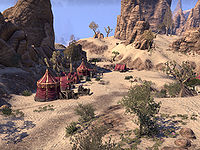 The Fallen Wastes, also known simply as Southern Bangkorai, are the lands south of Bangkorai Pass. They include the city of Hallin's Stand in the west, and the Nilata Ruins to the north. The eastern portion is more sparsely occupied, but the Old Tower and Fallen Wastes Dolmen can be found there, and the Hall of Heroes lies in the south. They are bordered on the north by the Ephesus region, accessible through Bangkorai Pass or the Sunken Road.
Settlements
[
edit
]
Farms and Plantations
[
edit
]
Caves, Ruins and Mines
[
edit
]
Battlefields, Cemeteries and Crypts
[
edit
]
Dungeons
[
edit
]
Group Bosses
[
edit
]
Dolmens
[
edit
]
Points of Interest
[
edit
]
Player Houses
[
edit
]
Wayshrines
[
edit
]
Unmarked Locations
[
edit
]
Adventurer Quests
[
edit
]
These side quests count towards the Bangkorai Adventurer achievement. For Covenant storyline quests which also contribute to this achievement, please see Bangkorai Quests.
Related Quests
[
edit
]
Achievements
[
edit
]
There is one Achievement associated with this region: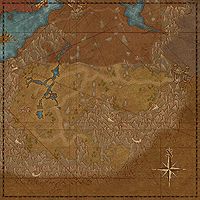 Gallery
[
edit
]