Online:Stibbons
The UESPWiki – Your source for The Elder Scrolls since 1995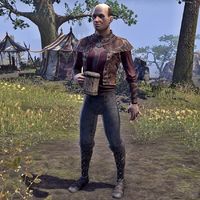 Stibbons is the Breton manservant of Lady Clarisse Laurent, and regularly suffers misfortune because of her adventures.
Related Quests
[
edit
]
Dialogue
[
edit
]
Tongues of Stone
[
edit
]
When Lady Laurent uses her antidote to attempt to reverse the stoneflesh on Stibbons:
Lady Clarisse Laurent: "Now, if my calculations are correct…."
<She pours the antidote on Stibbons.>
"This should take effect almost immediately."
<Stibbons becomes flesh and falls to ground in a stupor.>
Once he has been restored to flesh, Stibbons can be spoken with to ask how he is feeling.
"By Zenithar, I have an acute throbbing in my cranium. Could this be what a hangover is like?"
Are you all in one piece?
"Possibly, though I'd like to take time for a more detailed inspection.
How long was I asleep? Is Lady Laurent all right?"
You don't remember being a statue?
"A statue? Are you jesting? No, I can see you're serious.
I recall nothing. I seem to be intact, although perhaps a trifle stiff in the joints. I could certainly use a strong … that is, I believe I have a bottle of medicine that will help me."
After Tongues of Stone is completed, Stibbons will say:
"Thank you for assisting Lady Laurent while I was indisposed.
I hope there are no lingering after-effects. She can be … rather demanding at times."
Gallery
[
edit
]