Online:Khenarthi's Roost
The UESPWiki – Your source for The Elder Scrolls since 1995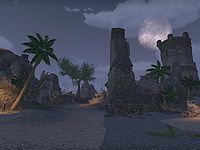 Khenarthi's Roost is a small island off the coast of Elsweyr inhabited by both Khajiit and Maormer, named for the Khajiiti goddess Khenarthi. The island is dotted with moon-sugar plantations and is a location of both active Khajiiti worship and Maormer magic, as the Khajiit signed a peace treaty with the Maormer which allowed them to settle on the island. The island is under negotiations for inclusion in the Aldmeri Dominion, but the negotiations are being hampered by the existing Maormer treaty. Meanwhile, the Dominion are actively combating skooma production in the area as a show of goodwill towards the island's ruler.
The island is where Aldmeri Dominion players begin their journey after escaping Coldharbour. Over the course of the Dominion questline, you discover that a devastating storm recently hit the island; it is revealed the storm was conjured by the Sea Vipers, a group of Maormer who oppose the planned inclusion of the island into the Dominion. Broken ships litter the south and west sides of the island, and the village of Cat's Eye Quay, near the port city of Mistral, is almost completely gone.
Points of Interest
[
edit
]
Striking Locales
[
edit
]
Player Houses
[
edit
]
Wayshrines
[
edit
]
Unmarked Locations
[
edit
]
Unnamed Bandit Camps
[
edit
]
Quest Map
[
edit
]
Paths always enter a quest from the top or left, and leave a quest from the bottom or right.
Denotes a requisite path or quest. You must complete this before starting the subsequent quest.
Denotes an optional path or quest. The subsequent story quest can be started without this being completed.
Denotes an exclusive path or quest. Only one of the connected quests is required, and only one can be completed.
Denotes a quest which is part of the main story chain.
Denotes a story quest which is required for Cadwell's Almanac.
Denotes a missable pointer quest which is part of the main chain.
Denotes a missable pointer quest which is on an alternate path.
Aldmeri Dominion Quests
[
edit
]
Side Quests
[
edit
]
Skyshards
[
edit
]
A Skyshard "Surly root-chewers burrow nearby"
A Skyshard "Sighted by serpents in Mistral"
Mistral Wayshrine
A Skyshard "Wooden bones, awash in ruin"
A Skyshard "Abandoned before mourning"
Khenarthi's Roost Wayshrine
A Skyshard "Southern temple's hidden jewel"
A Skyshard "Exposed to sky, surveying the strand"
Each image is relevant to its location, and each number corresponds to the key on the right.
Unlike the other faction's starter islands, the Aldmeri Dominion lacks a companion zone equivalent. This would have been the cut island of Rictus.
Gallery
[
edit
]