Online:Rivenspire
The UESPWiki – Your source for The Elder Scrolls since 1995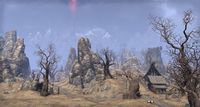 Rivenspire is the northern region of High Rock. It is a gloomy region, with jagged rock formations punctuating the rather bleak lowlands. The majority of creatures found in Rivenspire are of the aggressive type, including wolves and wraiths. Local hunters also make a living off the abundant giant bats and spiders. It is separated from Glenumbra and Stormhaven by the Darguard ridge of mountains.
Following the events of Ranser's War, Rivenspire has been ruled by a triumvirate of Breton noble houses: House Tamrith, House Montclair and House Dorell. Directly south of the capital city of Shornhelm sits Oldgate, the northern end of the mountain pass to Stormhaven. House Tamrith primarily has holdings in Eyebright Feld, the western region of Rivenspire, with enterprises focusing on agriculture and commerce. While the terrain is quite sparse, pastoral farming has survived at Hinault Farm due to the frequent rain showers prevalent in the region. Silverhoof Vale presents another good example of adaptation, as the Horsemen of Yokuda have abided there for three thousand years. The rocky region of Westmark Moor in the southeast is the location of Traitor's Tor, where King Ranser made his final stand against the Orcs of Wrothgar at the climax of Ranser's War. The nearby Old Shornhelm Ruins have become a major encampment of the Bitterhand Bandits. To the northeast, the main road leads through the town of Fell's Run and into Boralis, home of House Dorell's city of Northpoint. Unlike the southern regions, which are predominantly overcast, the coastal region of Boralis frequently sees clear skies. In the west of Boralis lies the ruins of the ancient Ayleid city Erokii, above which towers the mystical Doomcrag.
Rivenspire also contains an entrance to the Shipwright's Regret group dungeon, but the Ascending Tide DLC is needed in order to access it.
Points of Interest
[
edit
]
Striking Locales
[
edit
]
Set Stations
[
edit
]
Mundus Stones
[
edit
]
Public Dungeons
[
edit
]
Group Dungeons
[
edit
]
World Bosses
[
edit
]
World Events
[
edit
]
Player Houses
[
edit
]
Wayshrines
[
edit
]
Unmarked Locations
[
edit
]
A troll named Garden-Gulp stands in a ruin outside. Across from the cave is a broken statue with the lorebook The Doors of Oblivion, Part 2 at its base. (map)
Quest Map
[
edit
]
Paths always enter a quest from the top or left, and leave a quest from the bottom or right.
Denotes a requisite path or quest. You must complete this before starting the subsequent quest.
Denotes an optional path or quest. The subsequent story quest can be started without this being completed.
Denotes an exclusive path or quest. Only one of the connected quests is required, and only one can be completed.
Denotes a quest which is part of the main story chain.
Denotes a story quest which is required for Cadwell's Almanac.
Denotes a missable pointer quest which is part of the main chain.
Denotes a missable pointer quest which is on an alternate path.
Denotes a side quest which is required for Cadwell's Almanac.
Denotes a quest which rewards a Skill Point.
Dungeon Quests
[
edit
]
Skyshards
[
edit
]
Clue
Location
Notes
Just outside Shornhelm's gate.
Beside guild traders on outskirts of Shornhelm.
(map)
Honoring the dead in Eyebright's west.
North of Eyebright Feld Dolmen with ghosts.
(map)
Crumbled tower, Crestshade's welcome.
Slightly southeast of Crestshade Wayshrine.
(map)
Wolves howl at the Hoarfrost nearby.
North of Hoarfrost Downs Wayshrine, right side of road next to mountain.
(map)
Cresting the wood of words.
Behind Hoarfrost Downs village, behind Dusklight Inn, up hidden path by the Cave of Sorrows.
(map)
In the eye of the Point.
Northpoint, atop the lighthouse.
(map)
Skittered over in the pass.
In the lower tiers of the Doomcrag.
(map)
Follow the song to the Landing.
On Siren's Cove in a boat.
(map)
Ditched outside of Lorkrata.
West of Lorkrata Hills on hill behind broken wall.
(map)
In the tunnels under Crestshade.
Crestshade Mine, main room in a cart on the upper platform.
(map)
Seek worms who burrow for a tear.
Erokii Ruins, second small room on the right.
(map)
Among Flyleaf's unearthed dead.
Flyleaf Catacombs, left side of big room.
(map)
Secret in the blood-suckers' hideaway.
Hildune's Secret Refuge, big room heading to exit.
(map)
Look upon the Orsimer's hand.
Orc's Finger Ruins, top of second stairs, big room.
(map)
Conquer the crypt of trials.
Tribulation Crypt, first little room, right of entrance.
(map)
Stolen by worshipers of Ashpit's Lord.
Obsidian Scar, second very small room right of entrance.
(map)
Overland
[
edit
]
Dungeon
[
edit
]
Crafted
[
edit
]
Set Name
Traits Needed
Bonuses
Crafting Sites
Hist Bark
4

2 items: Adds 34-1487 Armor
3 items: Adds 25-1096 Maximum Stamina
4 items: Adds 28-1206 Maximum Health
5 items: While you are Bracing, you gain Major Evasion, reducing damage from area attacks by 20%.

Magnus' Gift
4

2 items: Adds 25-1096 Maximum Magicka
3 items: Adds 3-129 Magicka Recovery
4 items: Adds 3-129 Weapon and Spell Damage
5 items: When you cast a Magicka ability, you have an 15% chance to negate that ability's cost.

Whitestrake's Retribution
4

2 items: Adds 28-1206 Maximum Health
3 items: Adds 34-1487 Armor
4 items: Adds 3-129 Health Recovery
5 items: When you take damage while you are under 30% Health, you gain a damage shield that absorbs 303-13035 damage for 6 seconds. This effect can occur once every 15 seconds.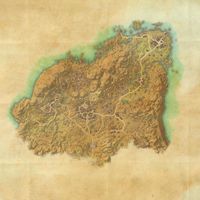 Gallery
[
edit
]