Online:Thieves' Oasis
The UESPWiki – Your source for The Elder Scrolls since 1995
With its mix of Redguard architecture, both old and new, Thieves' Oasis features a stunning waterfall, ancient statues, and housing fit for a prince—whether that prince is a scholarly antiquarian or roguish thief.
Zone
Fallen Wastes, Bangkorai
Location
South of the Basking Grounds
House Prices
Unfurnished
Unavailable (13,000 )
Furnished
Unavailable (16,250 )
House Stats
Type
Notable
Size
Manor
Style
Redguard
Traditional Furnishings
350 (700)
Special Furnishings
5 (10)
Collectible Furnishings
55 (110)
Special Collectibles
5 (10)
Player Cap
24
House ID
76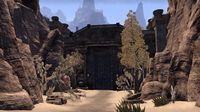 Thieves' Oasis is a large player house in Bangkorai. It is located next to Unhallowed Grave.
Base Furnishings
[
edit
]
Furnished
[
edit
]
Includes the above, in addition to:
Conservatory (22)

Giant Trees (4)

Plants (4)

Shrubs (4)

Trees (10)

Dining (40)

Benches (2)

Chairs (23)

Counters (8)

Tables (7)

Gallery (5)

Mounted Decor (1)

Paintings (4)

Hearth (27)

Basket and Bags (2)

Breads and Desserts (1)

Cabinetry (3)

Drinkware (1)

Pottery (12)

Hearth cont.

Produce (2)

Stockroom (6)

Library (23)

Desks (4)

Shelves (19)

Lighting (39)

Braziers (6)

Candles (15)

Chandeliers (8)

Lightposts (7)

Sconces (3)

Parlor (60)

Rugs and Carpet (20)

Sofas and Couches (11)

Tapestries (20)

Tea Tables (7)

Vases (2)

Structures (13)

Buildings (3)

Fences (5)

Planks (1)

Tents (4)

Suite (35)

Bedding (3)

Dividers (6)

Mirrors (2)

Nightstands (5)

Pillows (10)

Trunks (5)

Wardrobes (4)

Undercroft (6)

Urns (6)

Workshop (21)

Cargo (11)

Stools (10)
Gallery
[
edit
]
The interior of the house: