Online:Pantherfang Chapel
The UESPWiki – Your source for The Elder Scrolls since 1995
Zone
Blackwood Bog, Blackwood
Location
East of Bloodrun Wayshrine (boat serving as entrance)
East of Bloodrun Cave, bordering Shadowfen and Nibenay
House Prices
Unfurnished
14000 
Furnished
17500 
House Stats
Type
Notable
Size
Manor
Style
Leyawiin
Traditional Furnishings
350/700 (1)
Special Furnishings
5/10 (1)
Collectible Furnishings
55/110 (1)
Special Collectibles
5 (10)
Player Cap
24
House ID
89
Loading Screen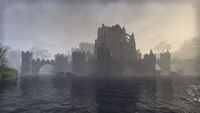 Pantherfang Chapel is a player house in Blackwood, east of Bloodrun Cave on the border with Nibenay.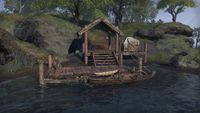 It is accessed by a boat found directly east of Bloodrun Wayshrine, which drops you off in the crypt beneath the house. The Chapel and Fort can be accessed from doors in the waterworks, which further lead out into the Courtyard.
A main road coming from the Nibenay Basin ends at the bridge on the east side of the house, though the gate leading to it is blocked off, rendering the bridge inaccessible.
The house was available in the Crown Store from August 17, 2021 to September 2, 2021.
Pantherfang Crypt
[
edit
]
Pantherfang Courtyard
[
edit
]
Pantherfang Chapel
[
edit
]
Pantherfang Chapel Hall
[
edit
]
Pantherfang Fort
[
edit
]
Pantherfang Battlements
[
edit
]
Furnishings
[
edit
]
Unfurnished
[
edit
]
75 Items
Conservatory (16)
Trees
Lighting (59)
Braziers (32)
Lightposts (8)
Sconces (19)
Furnished
[
edit
]
278 total Items. Includes the above, in addition to:
Gallery
[
edit
]
The bridge as seen from the exterior