Online:Sweetwater Cascades
The UESPWiki – Your source for The Elder Scrolls since 1995
Zone
Niben Forest, Blackwood
Location
Southwest of Borderwatch
House Prices
Unfurnished
Unavailable (13000 )
Furnished
Unavailable (16250 )
House Stats
Type
Notable
Size
Manor
Style
Leyawiin
Traditional Furnishings
350 (700)
Special Furnishings
5 (10)
Collectible Furnishings
55 (110)
Special Collectibles
5 (10)
Player Cap
24
House ID
Loading Screen

Set in an idyllic location between Khajiiti and Imperial lands, this tranquil villa draws upon the Anequina Aqueduct for its dancing fountains and deep cisterns. After relaxing outside, retreat indoors to enjoy healthy nourishment and restful sleep.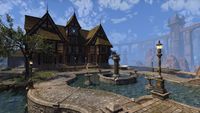 Sweetwater Cascades is a large player house accessed from Blackwood, on the border with Northern Elsweyr. Physically, the house is found near the southeast part of the Anequina Aqueduct on the map.
The house was available in the Crown Store during Bounties of Blackwood event from September 30 to October 14, 2021.
The house has entrances and exits to and from both Blackwood and Northern Elsweyr, though teleporting to the exterior will only take you to the Blackwood entrance.
Furnishings
[
edit
]
Unfurnished
[
edit
]
101 Items
Furnished
[
edit
]
306 total Items. Includes the above, in addition to:
Conservatory (3)

Plants (3)

Benches (17)

Chairs (23)

Counters (2)

Tables (15)

Gallery (10)

Paintings (10)

Hearth (18)

Baskets and Bags (3)

Cabinetry (8)

Drinkware (1)

Pottery (5)

Stockroom (1)

Library (35)

Desks (2)

Literature (3)

Shelves (29)

Supplies (1)

Lighting (56)

Braziers (1)

Candles (1)

Chandeliers (2)

Lamps (1)

Lanterns (2)

Parlor (30)

Knick-Knacks (4)

Rugs and Carpets (20)

Sofas and Couches (1)

Tapestries (5)

Suite (28)

Bedding (5)

Dividers (2)

Mirrors (4)

Nightstands (2)

Trunks (8)

Wardrobes (7)

Undercroft (3)

Incense

Workshop (11)

Cargo (11)

Stools (1)
Gallery
[
edit
]
Exterior
[
edit
]
Interior
[
edit
]