Online:House of the Silent Magnifico
The UESPWiki – Your source for The Elder Scrolls since 1995
Player House:
House of the Silent Magnifico
(view on map)

Zone
Myrkwasa, Alik'r Desert
Location
Across from Sentinel Palace
House Prices
Gold
320,000 
Unfurnished
4,100 
Furnished
5,100 
House Stats
Type
Classic
Size
Medium
Style
Redguard
Traditional Furnishings
200 (400)
Special Furnishings
3 (6)
Collectible Furnishings
10 (20)
Special Collectibles
3 (6)
Player Cap
12
House ID
35
Loading Screen

After the death of his beloved daughter Haruzeh at the Running of the Dunerippers, the Magnifico Z'za retired to his house in Sentinel and never spoke again, spending his last days playing endless games of hammergammon with his trained monkey, Lizard.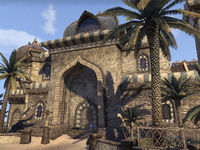 The House of the Silent Magnifico is a medium player house in Sentinel. It has no exterior, the most expensive house without one, and the interior consists of a single huge room that has an interior balcony surrounding the entrance. A secondary exit on the upper floor leads to a stairway offering roof access, though the roof is not considered part of the house and cannot be decorated. The house can be purchased for 00320000320,000 

after completing the main quest in the Alik'r Desert and earning the Consecrated Ground achievement. Or you can purchase it for 041004,100 

(051005,100 

furnished) without the achievement.
Furnishings
[
edit
]
Unfurnished
[
edit
]
6 Items
Lighting (6)
Chandeliers (3)
Sconces (3)
Furnished
[
edit
]
167 total Items. Includes the above, in addition to:
Dining (22)

Benches (1)

Chairs (14)

Counters (5)

Tables (2)

Hearth (43)

Baskets and Bags (11)

Breads and Deserts (2)

Cabinetry (1)

Dishes (3)

Drinkware (8)

Laundry (2)

Pottery (12)

Stockroom (4)

Library (15)

Desks (3)

Literature (1)

Shelves (9)

Supplies (2)

Lighting (10)

Fires (1)

Candles (8)

Sconces (1)

Parlor (32)

Banners (2)

Rugs and Carpets (12)

Sofas and Couches (6)

Tapestries (6)

Tea Tables (2)

Vases (4)

Suite (16)

Bedding (2)

Dividers (4)

Mirrors (1)

Nightstands (3)

Pillows (2)

Trunks (2)

Wardrobes (2)

Undercroft (7)

Incense (4)

Urns (3)

Workshop (16)

Cargo (9)

Stools (7)
Achievements
[
edit
]
There are three achievements associated with this house:
Achievement
Points
Description
Notes
Landowner
10
Obtain and enter any of the following classic homes.
Landlord
15
Obtain and enter three of the following classic homes.
Land Baron
50
Obtain and enter five of the following classic homes.
Apprentice Decorator
5
Decorate a home you own with at least 50 objects.
Furnished
Journeyman Decorator
5
Decorate a home you own with at least 100 objects.
Furnished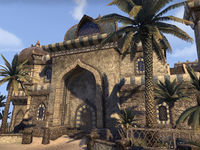 Gallery
[
edit
]