Online:Water's Edge
The UESPWiki – Your source for The Elder Scrolls since 1995
Zone
Leyawiin, Blackwood
Location
Inside the city of Leyawiin
House Prices
Gold
1,055,000 
Unfurnished
6,200 
Furnished
7,800 
House Stats
Type
Classic
Size
Large
Style
Leyawiin
Traditional Furnishings
300 (600)
Special Furnishings
4 (8)
Collectible Furnishings
20 (40)
Special Collectibles
4 (8)
Player Cap
12
House ID
31
Loading Screen

Those seeking a taste of river life without all the flooding can find everything they need in this cozy bridge home. With both the Outlaws Refuge and Leyawiin Castle just a brief walk away, it's the perfect spot for nobles and lowlifes alike.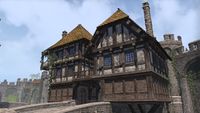 Water's Edge is a player house built on a bridge leading over the river between Leyawiin's palace and the rest of the city.
Each timber framed building has one room on each floor with a wooden staircase joining the rooms along the back wall. The second building contains a large fireplace on the lowest floor and a stone fireplace on the middle floor. The outdoor space is a two level wooden walkway and terrace with window boxes on your house and views of Leyawiin's walls, buildings and river.
To purchase this house, you need to have access to the Blackwood Chapter and to have completed the Blackwood Grand Adventurer achievement.
Furnishings
[
edit
]
Unfurnished
[
edit
]
23 Items
Furnished
[
edit
]
143 total Items. Includes the above, in addition to:
Conservatory (8)

Flowers (7)

Plants (1)

Dining (34)

Benches (7)

Chairs (17)

Counters (2)

Tables (8)

Paintings (7)

Hearth (2)

Baskets and Bags (2)

Breads and Desserts}} (1)

Cabinetry (4)

Dishes (3)

Drinkware (3)

Meals (1)

Pottery (6)

Produce (1)

Library (13)

Desks (1)

Literature (2)

Shelves (10)

Candles (2)

Chandeliers (3)

Fires (20

Lamps (3)

Lanterns (4)

Sconces (9)

Knick-Knacks (3)

Rugs and Carpets (9)

Tapestries (2)

Suite (21)

Bedding (6)

Dividers (2)

Mirrors (3)

Nightstands (4)

Trunks (3)

Wardrobes (3)

Incense

Tools
Gallery
[
edit
]
Unfurnished
[
edit
]
The Leyawiin seen from the porches is part of the house's worldspace, meaning no NPCs or Players will be visible. An invisible wall prohibits any attempt to jump into the river or onto the bridge.
This house should not be confused with Water's Edge, a village seen in Oblivion.