Online:Shalidor's Shrouded Realm
The UESPWiki – Your source for The Elder Scrolls since 1995
Zone
Hjaalmarch, Western Skyrim
Location
Northeast of Labyrinthian
House Prices
Unfurnished
Unavailable (13,000 )
Furnished
Unavailable (16,250 )
House Stats
Type
Notable
Size
Manor
Style
Ancient Nord
Traditional Furnishings
350 (700)
Special Furnishings
5 (10)
Collectible Furnishings
55 (110)
Special Collectibles
5 (10)
Player Cap
24
House ID
82
Loading Screen

Before working arcane miracles on Eyevea and the College of Winterhold, the great mage Shalidor experimented with pocket realms of Oblivion. One domain, his Shrouded Realm, features Nord-style towers on arboreal terrain that floats in a wondrous sky.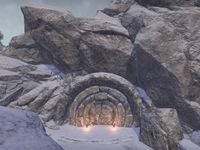 Shalidor's Shrouded Realm is a player house in Western Skyrim, located northeast of Labyrinthian. The sound of birdsong can be heard within the realm. Heading up the stairs to the west will lead you to the floating towers. Heading down the stairs to the west (denoted by the stone arches) leads you to an Ancient Nord style barrow.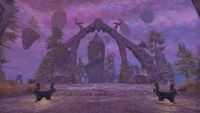 It was first available from December 22, 2020 to January 7, 2021. It will be available again from February 24 to March 10, 2022.
Base Furnishings
[
edit
]
Unfurnished
[
edit
]
The "unfurnished" house has 62 total furnishings.
Furnished
[
edit
]
The "furnished" house has 194 total furnishings.
Achievements
[
edit
]
There is 1 achievement associated with this house:
Achievement
Points
Description
Apprentice Decorator
5
Decorate a home you own with at least 50 objects.
Gallery
[
edit
]