Online: Serenity Falls Estate
The UESPWiki – Your source for The Elder Scrolls since 1995
Set in a quiet corner of Reaper's March, the rural manor of Serenity Falls deserves its name, with plenty of room for servants and livestock, all behind a handsome wall to keep out the bandits and burglars.
Zone
Dawnmead, Reaper's March
Location
North of S'ren-ja
House Prices
Gold
3,775,000 
Unfurnished
10,000 
Furnished
12,500 
House Stats
Type
Notable
Size
Manor
Style
Khajiit
Traditional Furnishings
350 (700)
Special Furnishings
5 (10)
Collectible Furnishings
55 (110)
Special Collectibles
5 (10)
Player Cap
24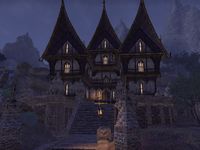 Serenity Falls Estate is a player manor in eastern Reaper's March. In addition to the house, the grounds include a large, two-story barn with stables on either side of it. The barn is separated from the house by a stream, fed by a waterfall and crossed via a bridge.
Base Furnishings
[
edit
]
Furnished
[
edit
]
Includes the above, in addition to:
This house was added to the game world in Update 11.
Achievements
[
edit
]
There are several achievements associated with this house:
Achievement
Points
Description
Reward
Notes
Count / Countess
50
Obtain and enter all three of the following notable homes.
Title: Count/Countess
Clan Father / Clan Mother
50
Obtain and enter Serenity Falls Estate.
Title: Clan Mother/Clan Father
Apprentice Decorator
5
Decorate a home you own with at least 50 objects.
Furnished or
Unfurnished
Journeyman Decorator
5
Decorate a home you own with at least 100 objects.
Furnished or
Unfurnished
Expert Decorator
10
Decorate a home you own with at least 200 objects.
Furnished
Gallery
[
edit
]