Online:Ebonheart Chateau
The UESPWiki – Your source for The Elder Scrolls since 1995

A magnificent castle keep, complete with walls, watchtowers, well, fountain, and stable, all dramatically sited on the slopes of an active volcano! It just needs a murder, and then it will be haunted as well.
Zone
Daen Seeth, Stonefalls
Location
East of Ebonheart
House Prices
Gold
3,785,000 
Unfurnished
12,000 
Furnished
15,000 
House Stats
Type
Notable
Size
Manor
Style
Dunmer
Traditional Furnishings
350 (700)
Special Furnishings
(?) (0)
Collectible Furnishings
40 (80)
Special Collectibles
5 (10)
Player Cap
24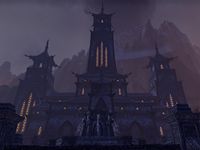 Ebonheart Chateau is a player manor in central Stonefalls. It features a stable and a tower which commands an impressive view over the nearby lava flows. A large fountain dominates the main courtyard. The castle itself has three floors, connected by two sets of stairs on either wing. The lanterns, lightposts, and stone blocks found here (even when unfurnished) are enough to earn you the Lighting Decorator and Structural Decorator achievements immediately upon entering. Purchasing this home will also earn you the Councilor achievement, and its corresponding title.
Base Furnishings
[
edit
]
Furnished
[
edit
]
Includes the above (minus a few items), in addition to:
Conservatory (-1)

Stones and Pebbles (-1)

Dining (34)

Chairs (12)

Counters (8)

Tables (14)

Gallery (12)

Art (3)

Mounted Decor (1)

Paintings (8)

Hearth (16)

Baskets and Bags (2)

Breads and Desserts (1)

Cookware (2)

Dishes (1)

Drinkware (5)

Laundry (1)

Pottery (3)

Stockroom (1)

Library (15)

Desks (3)

Literature (2)

Shelves (10)

Lighting (7)

Fires (2)

Lanterns (1)

Lightposts (-1)

Candles (5)

Parlor (75)

Banners (4)

Rugs and Carpets (38)

Sofas and Couches (19)

Tea Tables (14)

Suite (31)

Bedding (2)

Dividers (2)

Dressers (1)

Nightstands (2)

Pillows (11)

Trunks (2)

Wardrobes (11)

Undercroft (8)

Basins (7)

Incense (1)

Workshop (5)

Cargo (5)
Achievements
[
edit
]
There are several achievements associated with this house:
Gallery
[
edit
]