Online:Bounties of Blackwood
The UESPWiki – Your source for The Elder Scrolls since 1995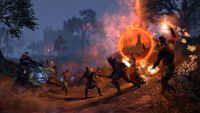 Bounties of Blackwood was a Blackwood-based event available to players who own the Blackwood Chapter. The event ran from September 30 until October 12, 2021 and various rewards could be earned simply by owning the Blackwood Chapter.
During this event, you could earn Blackwood Legates' Coffers by adventuring in Blackwood. Additionally, all Blackwood daily quests and the weekly Rockgrove trial quest had their regular reward boxes doubled, harvest node yields were increased, and World, Public Dungeon, Trial, and Delve bosses dropped additional rewards.
You could earn 00000022 

by completing a Blackwood daily each day of this event. These could be used to buy Blackwood furnishings, Voriplasm pet fragments, Unstable Morpholith base fragments, and all three fragments for the Dagonic Quasigriff. This was the first and only time Black Iron Stirrups, the third fragment needed for the Dagonic Quasigriff, will be available.
This event also added a new quest, also named Bounties of Blackwood. It could be obtained by reading a note pointing you towards the event-specific NPC Chanil-Jei outside Leyawiin.
Blackwood Pathfinder
[
edit
]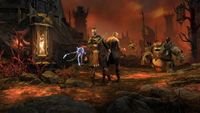 The primary activity was geared towards players earning the Blackwood Pathfinder achievement, which required visiting all of Blackwood's striking locales. Unlocking the achievement (counted once per account, per server) contributed to a running total, which was updated each day of the event. When that total reached one of three thresholds, a new reward was unlocked. Players who already unlocked the achievement were counted towards the grand total:
33% — Pellucid Swamp Jelly pet
66% — Shadows of Blackwood markings
100% — A cascading bounty box, with a chance to include items such as Undaunted Plunder, rare materials, or item sets, and guaranteed to include attunable crafting stations and a unique Ogrim target dummy; and The Deadlands DLC
The Deadlands DLC reward was initially a mystery and was announced during the Gates of Oblivion Year-End Event stream on October 1, 2021. Once the progress bar hit 100% on October 8, a Bonus Challenge was announced for the remainder of the event. The Bonus Challenge progress bar could be filled by the community defeating World Bosses in Blackwood. For every 25% of the bar filled, 2 additional Explorer's Celebration event days would be unlocked. By the end of the event, the progress bar had been filled 100% and all 8 days were unlocked. The Explorer's Celebration subsequently kicked off from the 12th to the 20th October.
Blackwood Legates' Coffers
[
edit
]
In addition to the community challenge, you could earn Blackwood Legates' Coffers from doing activities in Blackwood. The first time you completed a Blackwood daily or weekly quest each day, you would receive a Glorious Blackwood Legates' Coffer, which have a chance to contain:
Crafting materials
Valuables you can trade to merchants for gold
Style items for Blackwood motifs
Blackwood gear items
Treasure maps or Survey reports
Blackwood motif chapters
Blackwood-themed furnishings and furnishing recipes
Regular Blackwood Legates' Coffers could be earned by completing additional daily quests, or from the following sources in the Blackwood zone: as drops from Delve and World Bosses; from completing Oblivion Portals; as drops from Blackwood monsters; in treasure chests, safeboxes, Thieves Troves (marked as stolen), Psijic Portals, or other containers; and when harvesting crafting resource nodes.
Gallery
[
edit
]
External Links
[
edit
]