Online:Argonian
The UESPWiki – Your source for The Elder Scrolls since 1995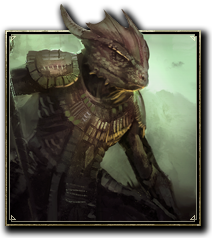 The Argonians are possessed of a cool intellect, and are well-versed in the magical arts, stealth, and the use of blades. They are also guerilla warfare experts, long accustomed to defending their borders from invaders. They often serve as the scouts and skirmishers for the forces of the Pact. Nagas are a "subspecies" of Argonians found further south in places like Murkmire.
For more information, see the main lore article.
A list of all the Argonians encountered in ESO can be found here.
In-Game Description
[
edit
]
The racial skills of the Argonians reflect their people's perilous swamp environment; giving them bonuses to healing done, restoration staves, disease resistance, resources gained from consuming potions, swimming speed, as well as base health and magicka.
Skill Perks
[
edit
]
Argonians have an associated skill line that complements their lore-based abilities with a focus on quicker healing powers and their inherent water abilities. Abilities are listed below.
Notes
The numbers displayed here are the base values for the skills. Magicka/Stamina Cost is based on a character of Level 50 160. Damage values are based on Max Magicka/Stamina 12000, Max Health 16000, and Weapon/Spell Damage 1000. The actual numbers you see in the game may depend on a variety of factors, including skill line rank, your equipped weapons and armor, other skills, enchantments, etc. As such, they should only be used as a comparative reference.
Passive Abilities
[
edit
]