Online:Auroran
The UESPWiki – Your source for The Elder Scrolls since 1995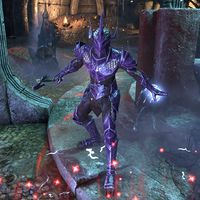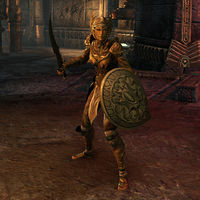 Aurorans are a golden-clad race of Daedra in service to Meridia. They are beings made of pure light who possess golden skin and wear fully-covering armor of any color. Most Aurorans can be encountered in the Depths of Malatar

, and they originate from the Colored Rooms. The one who is fought in Ragnthar shares the same model as a Golden Saint; according to Darien Gautier, Golden Saints also reside in the Colored Rooms.
* Technically, the Auroran Battlemage is just a renamed Golden Saint.
The Lightless Oubliette book also mentions Auroran prisoners being present in the Lightless Oubliette, but none appear. It also mentions "Lustrants" as being servants of Meridia.
Attempting to view how Aurorans look underneath their helmets yields no results as their models have not been given heads.