Online:Auroran (NPC)
The UESPWiki – Your source for The Elder Scrolls since 1995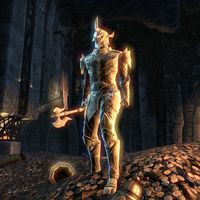 Aurorans are a type of Daedra associated with Meridia fought in the Tabernacle of Light Unyielding of the Depths of Malatar. Standard aurorans appear after destroying the Dark Orb, having a golden glow and fight wielding axes and using lightning-based attacks.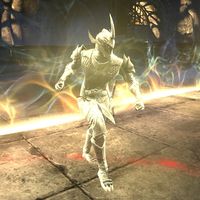 During the fight with the Symphony of Blades, spectral Aurorans will march forward in a phalanx formation across the room. They are accompanied by a barrier called "Meridia's Light", and killing one of the members of the Auroran Phalanx will also destroy the portion of light behind them. When the Symphony of Blades travels to the Colored Rooms, the Auroran phalanx will once again appear.
Related Quests
[
edit
]
Skills and Abilities
[
edit
]
Quick Strike

A basic melee attack that does moderate physical damage.

Heavy Attack

A heavy melee attack that does high physical damage. It can be blocked to reduce the damage.

Arc Lightning

The enemy channels and releases lightning across the floor as indicated by red circles. This attack does high shock damage to all enemies hit. This attack cannot be interrupted so must be avoided or blocked.

The Light That Burns

The enemy channels of a beam of lightning dealing damage to players in front of itself in a cone, this attack does moderate shock damage over time. This attack cannot be interrupted so must be avoided or blocked.

Dawnbreaker

The enemy arms itself with Meridia's sacred sword and dispenses her retribution, dealing very high physical damage to players in front of itself and stuns them for 2 seconds and deals additional moderate physical damage over time for 6 seconds. Blocking this attack will reduce the damage and prevent the stun.

Block

The enemy may also briefly block with its weapon, reducing damage taken greatly. Players that attempt heavy attacks on the enemy when it is blocking will be set off balance.

Meridia's Light

An instantly killing attack that accompanies the Auroran Phalanx, being triggered if you run into their barrier.