Online:Dremora
The UESPWiki – Your source for The Elder Scrolls since 1995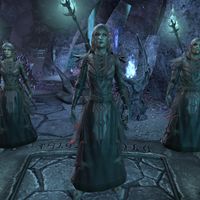 Dremora are an intelligent, humanoid Daedric race that despises mortals. They refer to themselves as the Kyn. The Dremora are commonly associated with Mehrunes Dagon, although many Dremora serve Molag Bal. Dremora society operates in a rigid caste system with an emphasis on loyalty. They tend to belong to clans, of which they are fiercely loyal to. The Deathbringer and the Foolkillers clans are two clans that serve Molag Bal. The Xivilai and Xivkyn are races similar to the Dremora.
They have a chance to drop the Void Alloy Rivets antiquity lead for the Spaulder of Ruin.
For more information, see the lore article.
Dialogue spoken by Dremora in the Imperial City can be found here.
Dialogue spoken by Dremora in the Deadlands can be found here.
Gallery
[
edit
]