Online:Dremora Ferylkyn
The UESPWiki – Your source for The Elder Scrolls since 1995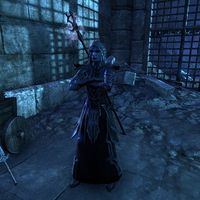 Dremora Ferylkyn are generic Dremora that can be found throughout Tamriel.
Dialogue
[
edit
]
As you approach the entrance of the Imperial City Prison, an execution will take place.
Dremora Ferylkyn: "Burn them. The Lord Warden ruled summary execution."
Skills and Abilities
[
edit
]
Ice Arrow

A basic ranged attack that does minor frost damage.

Summon Ice Barrier

The enemy summons an Ice Barrier that absorbs projectiles fired at it until destroyed. The player should move so that there is a clear line of sight between themselves and the enemy.

Winter's Reach

The enemy releases an icy whirlwind in the direction it is facing. This whirlwind does moderate frost damage and roots all players that it hits. Root effect passes through block, and can be escaped by roll dodging.