Online:Dremora Caitiff
The UESPWiki – Your source for The Elder Scrolls since 1995
Dremora Caitiff
Location
The Wailing Prison, The Foundry of Woe, Castle of the Worm, Dark Anchors, The Black Forge, The Great Shackle, Court of Contempt, The Cave of Trophies, The Wailing Maw, Village of the Lost, Knife Ear Grotto, Sanguine's Demesne, Bruma
Harena Hypogeum, Nobles District, Temple District , Coldwind's Den
Race
Dremora
Gender
Varies
Health
31364
23896 (Castle of the Worm), 14935, 19415 (The Foundry of Woe), 29870 (Wormroot Depths), 40643 (Cyrodiil)
49116136704 (Imperial City Prison)
Reaction
Hostile
Class
Ravager
Drops
Daedra Hearts
Daedra Husk
Poison Solvents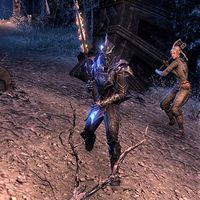 Dremora Caitiffs are Dremora ravagers found in multiple locations. They can also be summoned by the Wabbajack in the Glade of the Divines.
Related Quests
[
edit
]
Skills and Abilities
[
edit
]
Quick Strike

A basic melee attack that does minor physical damage.

Uppercut

A melee attack that causes moderate physical damage and knock back if it connects. This attack can be blocked to set the enemy off balance.

Cleave

The enemy swings its sword around, doing minor physical damage to all enemies in front of it. This attack has no red cone indicator.
Gallery
[
edit
]