Online:Nisin Cave
The UESPWiki – Your source for The Elder Scrolls since 1995
"You've got no more chance than a child at night in Nisin Cave." — Old Saying in Vlastarus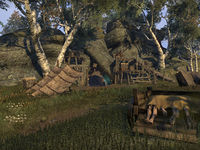 Nisin Cave is a cave in southwestern Cyrodiil, north of Castle Black Boot, featuring a sunken Daedric ruin. The cave contains Shadowed Path necromancers, Dremora, skeletons and wisps. A chest can be found around the exterior of the cave, to the east, behind the mountain. Mushrooms grow within the cave.
The first room contains an altar where a Shadowed Path Defiler performs a ritual on a skeletal corpse. A heavy sack can be found at the end of the entrance tunnel, beside a crate. A chest can be found in the tunnel leading to the next chamber, in front of where Volgo the Harrower stands.
A shrine to Boethiah can be found in the westernmost chamber. Here, you can fight Barasatii, a Dremora fire mage who is associated with the related quest. The delve's skyshard lies atop a large boulder in the southern portion of the chamber. A chest is located behind the western pillar in this room, near the tunnel where Volgo lies.
Related Quests
[
edit
]
Clearing the Dungeon
[
edit
]
Explore and clear Nisin Cave.
To clear this dungeon and mark it as complete, you need to kill the following bosses:
Achievements
[
edit
]
There is one Achievement associated with this location: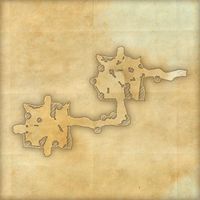 Gallery
[
edit
]