Online:Heavy Sack
The UESPWiki – Your source for The Elder Scrolls since 1995
This page or section is incomplete. You can help by adding to it.
Needs comprehensive list of heavy sack/crate locations
For more information, see the help files, the style guide, and this article's talk page.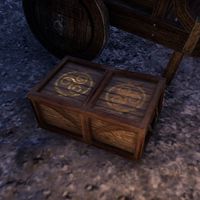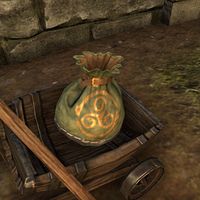 Heavy Sacks are lootable containers containing crafting materials which are found across Tamriel. They are green sacks tied with a brown strip of leather, and are about knee-high. They are located in dungeons and throughout the world in overland zones. They are similar in function to Heavy Crates, which only appear in Coldharbour.[verification needed]
When you loot a heavy sack, you'll gain a stack of ten raw materials for blacksmithing, clothing, woodworking and jewelry crafting materials. A haul containing raw materials from one of these professions may include ten samples of platinum dust. If you manage to loot enchanting materials, you'll get two stacks of five runes. These stacks contain one type of rune each, and can contain Potency, Essence or Aspect Runes. For example: you may loot a heavy sack to receive five Dekeipa runes and five Notade runes. When you loot alchemy ingredients, you will receive either five base-game reagents or ten potion solvents. An example of a haul featuring alchemy ingredients is a player receiving five Bugloss or ten samples of Lorkhan's Tears.
Trait stones and Style Materials for armor, jewelry and weapon crafting cannot be looted from heavy sacks.
Heavy Crates can contain four alchemical reagents or ten raw crafting materials.
Locations
[
edit
]
Aldmeri Dominion
[
edit
]
Daggerfall Covenant
[
edit
]
Ebonheart Pact
[
edit
]
Neutral
[
edit
]