Online:Bruma
The UESPWiki – Your source for The Elder Scrolls since 1995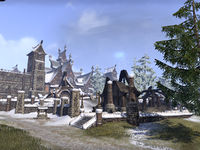 Bruma is a city in northern Cyrodiil, south of Fort Dragonclaw. It is connected via the Transitus Network to Fort Dragonclaw. The city has been conquered by Dremora and Shadowed Path cultists, leaving few survivors, but the area around the manor house can be captured for your alliance by gaining control of the three objective flags. A Dark Anchor and Skyshard can be found here. As the residents are quick to point out, no reinforcements have been sent from the nearby alliance stronghold of Fort Dragonclaw, and the local militia are hostile towards the alliance hold-outs that can be found around the manor house.
Closing the dolmen here is required to mark the

Bruma marker as complete.
Related Quests
[
edit
]
Bruma Adventurer
[
edit
]
Other Quests
[
edit
]
Safe House

[

edit

]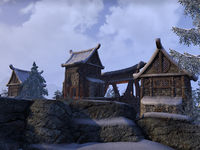 The Bruma Safe House is located at the southern end of the city. The alliance which controls the city can use the Safe House to access the Transitus Network. It is linked to Fort Dragonclaw and Fort Aleswell.
Capture Points

[

edit

]
There are three capture points in Bruma, all of which must be controlled by the same alliance in order to gain control of the town:
Central flag: East of the manor house (three guards)
Merchant flag: South of the manor house (two guards, near the quartermaster)
Outlier flag: North of the manor house (no guards)
Other Places
[
edit
]
Achievements
[
edit
]
Achievement
Points
Description
​
Bruma Adventurer
10
Complete all quests in Bruma.
When entering the area, the name appears as Bruma Anchor in the UI.
Prior to Update 11, Bruma was marked as a City which provided experience on discovery and was marked as complete upon destroying the Dark Anchor. Clearing Bruma was therefore needed in order to obtain several Dark Anchor achievements. The associated Discovery and Completion XP was shifted to the new Bruma Anchor icon when the city became an Alliance War objective.
Prior to Update 20, the Safe House could be used as a respawn location for the controlling alliance, but was not connected to the Transitus Network.
The repeatable "Bruma Adventurer" quests will award a Bruma Reward Container for completing each one.
Gallery
[
edit
]