Online:Interrupt
The UESPWiki – Your source for The Elder Scrolls since 1995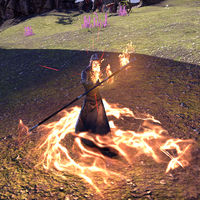 Interrupt abilities can be used against an enemy who is casting a spell or performing a feat to prevent them from doing so, usually stunning them or applying other Crowd Control effects in the process. You can tell if an attack can be interrupted by red lines that are flowing towards the caster. The simplest way to interrupt an attack is to use a Bash attack. Also most Crowd Control attacks such as Stun, Knockback, Off Balance, or Disorient will effectively interrupt most attackers, though stronger boss enemies may be immune to some or all of these effects.
The Noble's Conquest set heals you when you successfully interrupt an attack, and also causes them to take increased damage.
The Opportunist perk from 10 points in The Ritual will increase the damage of your next attack after interrupting an attack.