Online:Fire Behemoth
The UESPWiki – Your source for The Elder Scrolls since 1995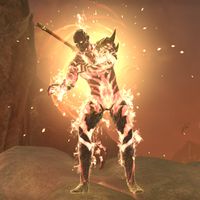 Fire Behemoths are giant humanoid Flame Atronachs encountered in Black Drake Villa and The Deadlands. Unlike normal Flame Atronachs, they resemble Havocrels and can use weapons.
They have been summoned by the True-Sworn to help burn down the villa. Skilled fire mages such as Pyroturge Encratis and his True-Sworn disciples can summon Fire Behemoths to do their bidding.
Fire Behemoths can also be encountered in Blackwood, such as through the Oblivion Portals or summoned within Rockgrove.
Skills and Abilities
[
edit
]
Crush

Hack

Summon Flame Atronachs

Brings forth four atronachs who cast Radiance and Lava Geyser
Unique Fire Behemoths
[
edit
]
Achievements
[
edit
]
There is one achievement associated with this NPC:
Fire Behemoths wear the Infernal Epidermis skin, which is also available for use by players.
They were at one point referred to as "Fire Giants" in the files.
Gallery
[
edit
]