Online:Flame Atronach
The UESPWiki – Your source for The Elder Scrolls since 1995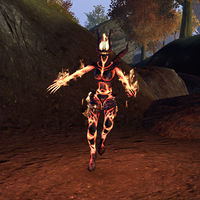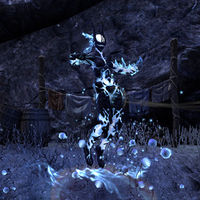 "When you're out exploring, keep your ears open for crackling flames—it may save you!"
Flame Atronachs are a common yet deadly Daedric creature, of an almost completely malevolent nature. Their graceful motion hides a desire to annihilate all mortals they encounter. They float across the ground, spinning and twirling at leisure, while wreathed in magical fires.
When Molag Bal banished flame atronachs from his realm one of his denizens took it upon himself to find a replacement. After searching over 37,000 planes and realms he found a suitable replacement on the Fourth Sinus of Takubar, the apparent inversion of the flame atronach known as the cold-flame atronach.
Skills and Abilities
[
edit
]
As they are considered Daedric creatures, flame atronachs are especially vulnerable to Fighters Guild abilities.
Fire Brand

Flare

A basic ranged attack that does minor flame damage.

Radiance

The atronach surrounds itself in an aura of flames, doing minor flame damage over time to all players near it.

Lava Geyser

The atronach summons a pillar of flame from the ground that does moderate flame damage to all players as indicated by a red circle.

Combustion

When defeated, the flame atronach explodes, dealing moderate flame damage to all players around its body as indicated by a red circle.
Variants
[
edit
]
Unique Flame Atronachs
[
edit
]
Achievements
[
edit
]
They have several achievements associated with them:
Generic Flame Atronachs
[
edit
]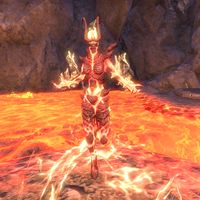 Generic, unnamed Flame Atronachs can be encountered in various places across Tamriel, including delves, dungeons, and DLC content. These atronachs have varying stats, namely health. Below is a list of Flame Atronachs, categorized by location, difficulty and health.
Gallery
[
edit
]