Online:Rockgrove
The UESPWiki – Your source for The Elder Scrolls since 1995
Trial
Discoverable
Yes
Completion
Objective
Dungeon
Yes
# of Zones
1
Zone
Blackwood
Location
Southern corner of Blackwood
Instanced Dungeon
Group Size
12
Veteran Speed Run Target
Loading Screen

Stone-talkers from the Ca-Uxith tribe have watched over Rockgrove's xanmeer for centuries. Although the stone stays silent, the chaos roiling beneath it could erupt at any moment. Before this occurs, a stone-talker will see the signs and prepare the tribe's defenses.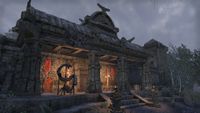 Rockgrove, known to the locals as Krona-Konu, is a ruin located in the southeastern reaches of Blackwood.
Related Quests
[
edit
]
Rockgrove Objective: Expel the Sul-Xan from Rockgrove. / You helped Dust-on-Scales retake Rockgrove from the Sul-Xan.

 Of Stone and Steam: Save the souls of Rockgrove's fallen and drive back the Dagonite invaders.

A Plea from the Flames: Travel to Rockgrove to learn of the Sul-Xan attack.
Walled Sanctuary
[
edit
]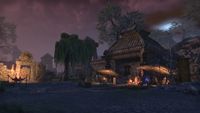 This is the starting area.
A monkey is sitting on one of the stone benches near the cooking fire in the starting area. The gate leading to the Overgrown Thoroughfare lies on the eastern end of the first area.
Overgrown Thoroughfare
[
edit
]
A large courtyard containing the first group of enemies. There is a lantern mantis off to the south, and two gas blossoms off to the east. You'll witness two Sul-Xan Militants each sacrificing an innocent soul as you approach.
Ruined Springs
[
edit
]
This is a small enclosed courtyard with several glowing pools in the corners. Oaxiltso can be found here guarding the entrance to the xanmeer.
Xanmeer Root-Crypts
[
edit
]
The interior of the xanmeer connects to a massive subterranean cavern. Its passages appear to be living quarters but are swarming with Sul-Xan enemies. In the second-last chamber you will find a reading room at the bottom of the stairs; the lore book Havocrel: Strangers from Oblivion can be found lying on a table here.
Xanmeer Pinnacle
[
edit
]
The summit of the xanmeer is reached by navigating through the interior of the complex. It is a wide platform where Flame-Herald Bahsei guards an open Oblivion Gate.
Tower of the Five Crimes
[
edit
]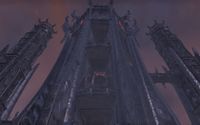 Entering the Oblivion Gate leads to the domain of Xalvakka, a lava-covered path leading to her tower. The tower has several levels which you will be forced to ascend during the fight to avoid being consumed by the rising lava.
The Challenge Banner for Veteran Hard Mode is located at the end of the bridge leading to Xalvakka's tower, to the left as you approach.
Enemies
[
edit
]
Normal Enemies
[
edit
]
Elite Enemies
[
edit
]
Characters
[
edit
]
Trial Mechanics
[
edit
]
Set Name
Bonuses
Armor Weight
Bahsei's Mania

2 items: Adds 3-129 Spell Damage
3 items: Gain Minor Slayer at all times, increasing your damage done to Dungeon, Trial, and Arena Monsters by 5%.
4 items: Adds 15-657 Spell Critical
5 items: Increases your damage done to non-player enemies by up to 15% based on your missing Magicka. Current value: 0%

Light Armor
Perfected Bahsei's Mania

2 items: Adds 3-129 Spell Damage
3 items: Gain Minor Slayer at all times, increasing your damage done to Dungeon, Trial, and Arena Monsters by 5%.
4 items: Adds 15-657 Spell Critical
5 perfected items: Adds 3-129 Spell Damage
5 items: Increases your damage done to non-player enemies by up to 15% based on your missing Magicka. Current value: 0%

Light Armor
Saxhleel Champion

2 items: Adds 25-1096 Maximum Magicka
3 items: Gain Minor Aegis at all times, reducing your damage taken from Dungeon, Trial, and Arena Monsters by 5%.
4 items: Adds 25-1096 Maximum Stamina
5 items: When you use an Ultimate ability while in combat, you and up to 11 group members within 28 meters of you gain Major Force for 1 second per 15 Ultimate spent, increasing your Critical Damage done by 20%.

Heavy Armor
Perfected Saxhleel Champion

2 items: Adds 25-1096 Maximum Magicka
3 items: Gain Minor Aegis at all times, reducing your damage taken from Dungeon, Trial, and Arena Monsters by 5%.
4 items: Adds 25-1096 Maximum Stamina
5 perfected items: Adds 25-1096 Maximum Stamina
5 items: When you use an Ultimate ability while in combat, you and up to 11 group members within 28 meters of you gain Major Force for 1 second per 15 Ultimate spent, increasing your Critical Damage done by 20%.

Heavy Armor
Stone-Talker's Oath

2 items: Adds 3-129 Magicka Recovery
3 items: Gain Minor Aegis at all times, reducing your damage taken from Dungeon, Trial, and Arena Monsters by 5%.
4 items: Adds 3-129 Magicka Recovery
5 items: Your fully-charged Heavy Attacks place a soul bomb on your target that charges as the target takes damage. After 10 seconds, the bomb explodes, restoring 5% of the damage received as Stamina and Magicka, up to 2240 Stamina and Magicka, to 12 group members within 16 meters of the explosion. This effect can occur every 10 seconds.

Light Armor
Perfected Stone-Talker's Oath

2 items: Adds 3-129 Magicka Recovery
3 items: Gain Minor Aegis at all times, reducing your damage taken from Dungeon, Trial, and Arena Monsters by 5%.
4 items: Adds 3-129 Magicka Recovery
5 perfected items: Adds 25-1096 Maximum Magicka
5 items: Your fully-charged Heavy Attacks place a soul bomb on your target that charges as the target takes damage. After 10 seconds, the bomb explodes, restoring 5% of the damage received as Stamina and Magicka, up to 2240 Stamina and Magicka, to 12 group members within 16 meters of the explosion. This effect can occur every 10 seconds.

Light Armor
Sul-Xan's Torment

2 items: Adds 3-129 Weapon Damage
3 items: Gain Minor Slayer at all times, increasing your damage done to Dungeon, Trial, and Arena Monsters by 5%.
4 items: Adds 15-657 Weapon Critical
5 items: When an enemy you recently damaged dies, they leave behind a vengeful soul for 6 seconds. You can only create one vengeful soul at a time. Touching the soul increases your Weapon Critical by 50-2160 and your Critical Damage by 12% for 30 seconds.

Medium Armor
Perfected Sul-Xan's Torment

2 items: Adds 3-129 Weapon Damage
3 items: Gain Minor Slayer at all times, increasing your damage done to Dungeon, Trial, and Arena Monsters by 5%.
4 items: Adds 15-657 Weapon Critical
5 perfected items: Adds 15-657 Weapon Critical
5 items: When an enemy you recently damaged dies, they leave behind a vengeful soul for 6 seconds. You can only create one vengeful soul at a time. Touching the soul increases your Weapon Critical by 50-2160 and your Critical Damage by 12% for 30 seconds.

Medium Armor
Gallery
[
edit
]