Online:Daedroth
The UESPWiki – Your source for The Elder Scrolls since 1995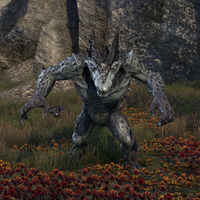 Daedroth are Daedra that are associated with the Daedric Princes Molag Bal and Mehrunes Dagon.
Skills and Abilities
[
edit
]
As they are considered elite creatures, daedroth are immune to all forms of crowd control effects.
Jagged Claw

A basic melee attack that does minor physical damage.

Fiery Jaws

The daedroth bites the player, doing moderate physical damage. This attack also applies the Burning effect, which does minor flame damage over time.

Fiery Breath

The daedroth breathes fire, doing moderate flame damage over time to all players in front of it as indicated by a red cone.
Locations
[
edit
]
Unique Daedroth
[
edit
]
Daedroth Variants
[
edit
]
Quests Involving Daedroth
[
edit
]
Generic Daedroths
[
edit
]
Generic, unnamed Daedroths can be encountered in various places across Tamriel, including delves, dungeons, and DLC content. These Daedra have varying stats, namely health. Below is a list of Daedroths, categorized by location, difficulty and health.
Gallery
[
edit
]