Online:Atronach Worker
The UESPWiki – Your source for The Elder Scrolls since 1995
Atronach Workers are found on the isle of Artaeum summoned by Psijic mages.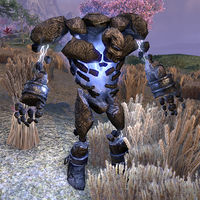 One of the Atronach Workers is a Storm Atronach located on the crop fields in the north of Artaeum. It has been apparently summoned by the Psijic Order mage Mulvarion to perform farming duties while he sits in the shade drinking. Every so often the atronach will cause miniature rain clouds to water the crops.
This article could benefit from an image.
See Help:Images for information on how to upload images. Please remove this template from the page when finished.
Two Atronach Workers, a Flame Atronach and an Air Atronach, are summoned by Eldellar for Nemuutian, Lantilwe and Geniette Emard to observe their fight. They disappear after they defeat each other.