Online:Teeth of Sithis
The UESPWiki – Your source for The Elder Scrolls since 1995
As Sithis is Change, there are naturally no standards for Sithis altars or chapels—but in Murkmire, there is certainly no larger temple to the Dread Father than the Teeth of Sithis.
Delve
Discoverable
Yes
Completion
Explore and Clear
Dungeon
Yes
# of Zones
1
Skyshards
1
Occupants
Bound Hemonculous, Centipede, Hackwing, Hemonculous, Strangler, Salamander
Sun-Eater Bloodherd, Sun-Eater Bloodletter, Sun-Eater Deathdrinker, Sun-Eater Despoiler, Sun-Eater Nightstalker, Sun-Eater Pyrewalker, Blackguard Bloodfiend, Sun-Eater Thrall,
Zone
Murkmire
Location
West of The Dominus Fatum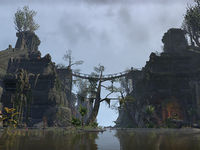 Teeth of Sithis is an ancient temple of Sithis in Murkmire. The temple complex consists of two large xanmeers which are connected to each other via both an underground tunnel and a bridge above.
Related Quests
[
edit
]
Clearing the Dungeon
[
edit
]
Explore and clear the Teeth of Sithis.
To clear this dungeon and mark it as complete, you need to kill the following bosses:
Gallery
[
edit
]