Online:The Hidden Harvest
The UESPWiki – Your source for The Elder Scrolls since 1995
This page is currently being rewritten as part of the Online Quest Project.
The page is being both written and checked. All users are welcome to make changes to the page. If you make a change that is relevant to the project, please update this template accordingly, and make sure you have observed the project guidelines.

| | | | | |
| --- | --- | --- | --- | --- |
| | | Destroy the source of the briarheart warriors. | | |
This Orsimer army needs to get into Frostbreak Fortress to find and destroy the source of the briarheart warriors, but the Winterborn's defenses are too strong. Between the briarhearts and the harpies, they can't break the walls.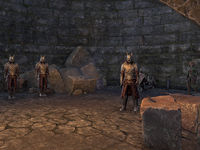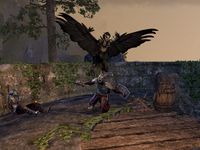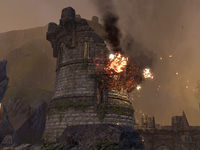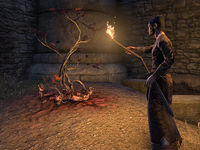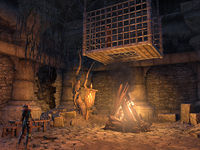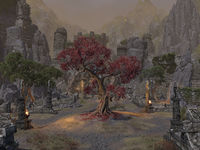 Quick Walkthrough
[
edit
]
Report to Siege Commander Dulph.
Get inside the fortress and find the missing squads.
Destroy the harpy aeries.
Find the alchemist and get inside the fort.
Investigate the briar heart.
Destroy briar heart saplings.
Recover Alinon's elixir.
Destroy the Briar Heart tree.
Detailed Walkthrough
[
edit
]
There is an imprisoned Reach warrior you can talk to while burning the saplings (optional, but not listed as an optional objective) who can give additional details about the briarheart warriors. He's pretty smug about it.
After destroying the tree, the quest marker for exiting the fortress is NOT in the correct area on the map. To meet up with Alinon and Eveli and finish the quest, take the unmarked exit that is at the far western side of the fortress map (out of the room with the tree in it).
Quest Stages
[
edit
]
The Hidden Harvest
Finishes Quest
Journal Entry
I need to report to Siege Commander Dulph within the siege camp to find out how I can help the Orc soldiers get into Frostbreak Fortress.

Objective: Report to Siege Commander Dulph

I should speak to Siege Commander Dulph and see what kind of help he needs.

Objective: Talk to Siege Commander Dulph

I need to get inside Frostbreak Fortress and find the two squads of Orc soldiers Siege Commander Dulph sent in to distract the harpies and destroy the source of the briarheart warriors.

Objective: Rendezvous with the Orc Squads

I need to clear a path to the two towers with clear lines of sight to the harpy aeries. Then Eveli can mark the targets with a flaming arrow so that the catapults can destroy the aeries.

Objective: Destroy the Harpy Aeries: 0/2

Now that the harpy aeries have been destroyed, I should look for the alchemist and the squad escorting him. They should be trying to find a way into the fortress.

Objective: Find the Alchemist

I found the alchemist and his soldier escort. I should talk to the alchemist and find out how he wants to proceed.

Objective: Talk to Alinon the Alchemist

I need to escort Alinon the Alchemist into Frostbreak Fortress.

Objective: Get Alinon Inside the Fort

We're inside Frostbreak Fortress. Alinon wants us to look around and see if we notice any unusual plants or flowers. He thinks there must be something to lead us to the source of the briar hearts.

Objective: Help Investigate the Briar Heart

It looks like Alinon found something important. I should talk to him and find out what he discovered.

Objective: Talk to Alinon the Alchemist

Alinon the Alchemist claims that the source of the briarheart warriors is a large plant or tree. But before we can destroy the source, we need to weaken its defenses by burning the corrupted saplings scattered throughout the fortress.

Objective: Destroy Briar Heart Saplings

I burned a number of the briar heart saplings and Alinon's plan appears to be working. I should return to Alinon and Eveli and determine our next step.

Objective: Return to Alinon and Eveli

Alinon has disappeared. I need to find him in order to finish our mission.

Objective: Find Alinon the Alchemist

I found Alinon. I should talk to him and find out how he got into this predicament.

Objective: Talk to Alinon the Alchemist

Eveli Sharp-Arrow has arrived. Maybe she can rescue Alinon while I recover his missing alchemy bag and the elixir to destroy the source of the briar heart. I should talk to her.

Objective: Talk to Eveli Sharp-Arrow

I need to find Alinon's alchemy bag and the elixir inside so that I can destroy the source of the briar hearts.

Objective: Recover Alinon's Elixir

To put an end to the briarheart warriors, I need to use Alinon's elixir to destroy the tree that is the source of the briar hearts.

Objective: Destroy the Briar Heart Tree

Objective Hint: Recover Alinon's Alchemy Bag

Objective Hint: Use Alinon's Elixir on the Tree

I should exit the fortress and make sure that Eveli and Alinon the Alchemist are all right.

Objective: Exit the Fortress

I should talk to Alinon the Alchemist and make sure the source of the briar hearts was really destroyed.

Objective: Talk to Alinon the Alchemist