Online:Werewolf (NPC)
The UESPWiki – Your source for The Elder Scrolls since 1995
This article is about enemies who are werewolves. For the condition lycanthropy, in particular the effects it has on you, see Werewolf.
Werewolf
(lore page)
Location
Argent Mine, Hircine's Haunt, Camlorn, Near Aldcroft, Silvenar, Archon's Grove, Dragonstar Arena, Near Valanir's Rest, Dark Moon Grotto, Hordrek's Hunting Grounds
Harrowstorms, Stone Garden, Unhallowed Garve, Moon Hunter Keep
Glenumbra, Bangkorai, Malabal Tor, Reaper's March, The Rift, Western Skyrim, The Reach, Blackreach: Greymoor Caverns, and Cyrodiil
Species
Werewolf
Health
60370
119725 (Hircine's Haunt)
62200 (Packleader Sigmund summon)
(?)(?) (Dragonstar Arena)
Reaction
Hostile
Drops
Werewolf's Cameo, Poison Solvents, Raw Leather, Clean Pelt, Foul Hide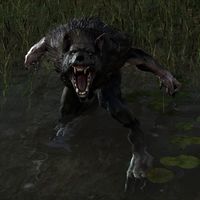 Werewolves are monstrous, wolf-like creatures. They are taller and broader than man and mer, and are capable of moving on two limbs or sprinting on all four. They have a weakness to poisons, but are incredibly strong, and very fast. You can become a werewolf if infected. This unlocks the ability to transform, as well as an associated Lycanthropy skill line.
For more information, see the lore page.
Skills and Abilities
[
edit
]
These are skills that all werewolves have.
Savage Leap

The werewolf leaps and the air and delivers a crushing blow. Can be blocked.

Swipe

Basic physical attack. The werewolf swipes at you with its claws.

Slashing Fury

The werewolf slashes its claws several times.

Claw Slash

Physical attack. The werewolf slashes at you with its claws.
Unique Werewolves
[
edit
]
Variants
[
edit
]
Generic Werewolves
[
edit
]
Gallery
[
edit
]