Online:Dynus Aralas
The UESPWiki – Your source for The Elder Scrolls since 1995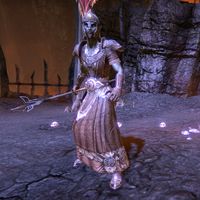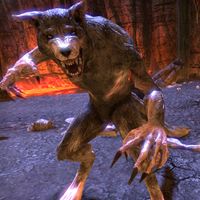 Dynus Aralas is a Dunmer werewolf found in the Blessed Crucible. Dynus acts as the announcer for the fights before the Pack joins in.
Related Quests
[
edit
]
Skills and Abilities
[
edit
]
While in werewolf form, Dynus can unleash a flurry of claws upon his target.
Quest-Related Events
[
edit
]
When you first enter the arena:
Dynus Aralas: "New challengers appear from the cold wastes. Are they worthy enough to face The Pack? Let the games a begin!"
After defeating the first wave of gladiators:
Dynus Aralas: "Impressive. Let's see if they can handle something a little harder, eh?"
Soon Dynus and the rest of the Pack will take to the arena, as you have proven yourself to be worth fighting for a bit.
Dynus Aralas: "It looks as like there's some fight in our challengers, after all. Take them down!"
Snagg gro-Mashul: "Congratulations. You've passed the first trial."
Kayd at-Sal: "Yeah, they bested the finest sloths, drunkards, and fools we had to offer!"
Nusana: "Adorable. Shall we give them a pendant?"
<The Pack jumps into the arena.>
Dynus Aralas: "I say, let's see how these soft skins fair against a real challenge!"
Snagg gro-Mashul: "To arms!"