Online:Vulkhel Guard
The UESPWiki – Your source for The Elder Scrolls since 1995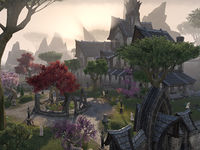 Vulkhel Guard is a port city at the southern tip of Auridon. It is ruled by Canonreeve Nesaranwe. The Queen has planned a visit here as one stop on her tour around Auridon, and Watch Captain Astanya is working frantically to prepare.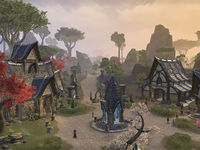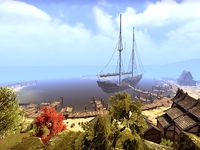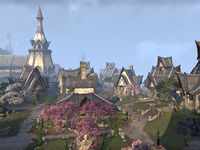 Vulkhel Guard contains all the necessary services for a large city, including crafting stations, a bank, and chapters of the Fighters Guild and Mages Guild, arranged into four districts. In the center lie the manor house, which has a Skyshard on the middle balcony, and temple, where Queen Ayrenn and her entourage are starting their tour of Auridon. To the west is the main marketplace and guildhalls, while the residences and guard barracks can be found around the Wayshrine in the east. In the south lies Vulkhel Docks, where those wishing to visit Khenarthi's Roost can arrange transport with Sugar-Claws, and characters can take a ship to Daggerfall or Davon's Watch. Vulkhel Guard Lighthouse is just outside the city to the northeast.
If you head south from the wayshrine, you'll come across the Harborside Market, which lies on the beach between the city and the docks. There is a cooking fire and a Basic Provisioning Guide across from the general store.
Related Quests
[
edit
]
Shops and Services
[
edit
]
Transport Services
Other Places
[
edit
]
Wayshrine

[

edit

]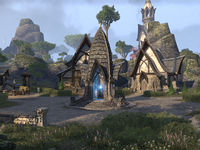 Vulkhel Guard Wayshrine is located just inside the northern entrance to the city, north of the docks and east of the manor. This wayshrine is unlocked as soon as you arrive on your alliance's starter island after escaping The Wailing Prison.
* Quest-dependent.
** DLC-dependent.
† This person has been removed from the game.

Gallery
[
edit
]