Online:Heralda Garscroft
The UESPWiki – Your source for The Elder Scrolls since 1995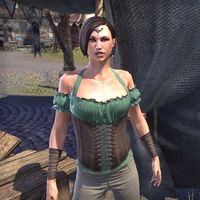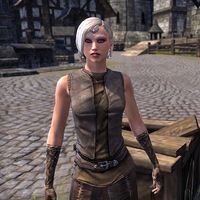 Heralda Garscroft is a Breton holiday achievement furnisher who can be found in each of the alliances' capital cities and Vivec City in Vvardenfell.
She sells furnishing items associated with the following holiday events:

These furnishing items can only be purchased once the requisite achievements have also been completed.
Dialogue
[
edit
]
If you own a home, when you speak to her, Heralda will say:
"You should be honored. I only sell quite interesting things to quite interesting people."
"Names are like noses. Everyone has one. What you want is a reputation. I love to help turn a house into a home when a good reputation is involved."
"Now, I usually only deal with heroes of a higher stature, but I like you. So this time I'll make an exception."
"Starting to make a name for yourself? I like that. Let me show you something that will enhance your reputation and decorate your home at the same time."
Furnishings for Sale
[
edit
]
Image
Name
Type
Cost
Achievement
Description
Event
Banner of Mayhem
Parlor
(Banners)
5,000 
Achievement: Mayhem Connoisseur
(Midyear Mayhem)
A banner of champions, and reminder of the senseless violence during the Midyear. It has an air of violence about it.
Midyear Mayhem
Corpse of Mayhem, Argonian
Undercroft
(Remains)
15,000 
Achievement: Wrath of the Whitestrake
(Midyear Mayhem)
A fully-assembled Argonian skeleton, and reminder of the senseless violence during the Midyear.
Midyear Mayhem
Corpse of Mayhem, Khajiit
Undercroft
(Remains)
15,000 
Achievement: Wrath of the Whitestrake
(Midyear Mayhem)
A fully-assembled Khajiit skeleton, and reminder of the senseless violence during the Midyear.
Midyear Mayhem
Corpse of Mayhem, Orc
Undercroft
(Remains)
15,000 
Achievement: Wrath of the Whitestrake
(Midyear Mayhem)
A fully-assembled Orcish skeleton, and reminder of the senseless violence during the Midyear.
Midyear Mayhem
New Life Bonfire
Lighting
(Fires)
10,000 
Achievement: Snow Bare Plunge
(New Life Festival)
A crackling bonfire, perfect for warding off the evening chill and gathering with friends.
New Life Festival
New Life Celebrant's Standard
Parlor
(Banners)
2,500 
Achievement: New Life Celebrant
(New Life Festival)
Honor Magnus as winter's grip weakens, and the days begin to lengthen.
New Life Festival
Probably-Not-Punch Bowl of Mayhem
Hearth
(Drinkware)
30,000 
Achievement: Star-Made Knight
(Midyear Mayhem)
A reminder of the senseless violence during the Midyear. Perhaps the most noteworthy trophy one could have. Perhaps, also, the most fragrant.
Midyear Mayhem
Standard of Mayhem
Parlor
(Banners)
2,500 
Achievement: Mayhem Connoisseur
(Midyear Mayhem)
A standard of champions, and reminder of the senseless violence during the Midyear. It smells vaguely of blood and oil.
Midyear Mayhem
Tree, Jester's Large
Conservatory
(Trees)
15,000 
Achievement: Royal Jester
(Jester's Festival)
Does this tree look funny to you?
Jester's Festival
Tree, Jester's Small
Conservatory
(Trees)
5,000 
Achievement: Royal Jester
(Jester's Festival)
A young tree also known as "The Hilarious Sapling." Or was that jester kidding about that?
Jester's Festival
Witch's Festival, Cursed Totem
Undercroft
(Remains)
25,000 
Achievement: Reaper's Harvest
(Witches Festival)
Sure, it's fun for your house to have a curse on it during the Witches Festival, but why not be accursed all year long?
Witch's Festival
Witch's Festival, Plunder Skulls
Undercroft
(Remains)
10,000 
Achievement: Plunder Skull Fanatic
(Witches Festival)
Cranial buckets of loot of particular interest to witches and warlocks—now not just for the Witches Festival!
Witch's Festival
Witches Remains, Hagraven
Undercroft
(Remains)
10,000 
Achievement: An Unsparing Harvest
(Witches Festival)
Even in death, this trophy's glassy eyes seem haunted by dark visions.
Witch's Festival