Online:Midyear Mayhem
The UESPWiki – Your source for The Elder Scrolls since 1995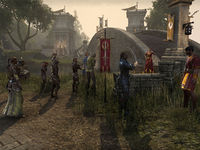 Midyear Mayhem is a holiday event that typically takes place in July. The event is a celebration of Pelinal Whitestrake victory against the Ayleids in a pivotal conflict known as Pelinal's Midyear Massacre. As such, the event is themed around around PvP in Cyrodiil.
The festival also has a special quest associated with it, also named Midyear Mayhem, which repeats every year. Upon completing this quest players receive the Scroll of Pelinal's Ferocity, a reusable item which doubles Alliance Points gained for two hours. Another notable feature of the event is the inclusion of Pelinal's Midyear Boon Box, which have a chance to contain Transmute Crystals, PvP consumables, Alliance Motif chapters, Akaviri style items, Prismatic Runestones, Reagents, and Songs of Pelinal book furnishings.
Pelinal's Midyear Boon Box
[
edit
]

Supplies with a Surprise: Tel Var stones, useful items for the Alliance War, and a Random Rarity. Once per day per account, during Midyear Mayhem, will also contain one Standard-Bearer's Proof.
Pelinal's Midyear Boon Boxes are rewarded for completing Alliance War, Cyrodiil Settlement and Battlegrounds quests while under the influence of the Scroll of Pelinal's Ferocity during the Midyear Mayhem event.
Possible Loot
[
edit
]
These boxes can contain the following items:
Pelinal's Midyear Boon Box Loot
Midyear Mayhem 2019
[
edit
]
March into Cyrodiil and the Battlegrounds to contend with your fellow players during the action-packed Midyear Mayhem encore event. Learn about how you can earn double XP, Alliance Points, and additional rewards right here!
The 2019 Midyear Mayhem event ran from January 10 until January 21, 2019. The event was similar to the previous year, but with a few additions. Throughout the event players could earn Event Tickets and purchase the Dawnwood Berries of Bloom, required to evolve the Nascent Indrik mount into a Dawnwood Indrik mount.
In addition to this, harvesting nodes for both Cyrodiil and the Imperial City dropped double their regular resources, and the special merchant known as "The Golden" stocked Alliance War Legendary-quality jewelry (necklaces during the first weekend and rings during the second).
Midyear Mayhem 2018
[
edit
]
Glory awaits those who fight for themselves or their Alliance during the Midyear Mayhem PvP event. Celebrate the legendary warrior Pelinal Whitestrake and earn double XP, Alliance Points, and bonus rewards by taking part in ESO's PvP game modes!
The 2018 Midyear Mayhem event ran from July 26 to August 6, 2018. The event was identical to the previous year in every way.
Midyear Mayhem 2017
[
edit
]
Prepare for battle! Celebrate the legendary hero Pelinal Whitestrake and his victory at the Bridge of Heldon by taking part in our first Midyear Mayhem PvP event and earning the Midyear Victor's Laurel Wreath collectible hat. It is said that those who wear the Midyear Laurel feel themselves infused with the holy rage of the spirit of Pelinal himself! To learn how you can get your own Laurel Wreath while earning double Alliance Points, PvP gear, and rare crafting items, read on!
The inaugural Midyear Mayhem event ran from July 20 to July 31, 2017. Alongside Midyear Boon Boxes, this event introduced a new collectible hat, Midyear Victor's Laurel Wreath, and the "Star-Made Knight" title which could be earned by completing all the achievements associated with the event.
External Links
[
edit
]