Online:Furnishings
The UESPWiki – Your source for The Elder Scrolls since 1995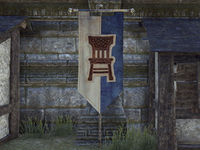 Furnishings are items that are used to decorate Player Houses. They were first added with the Homestead update. Many furnishings can be bought at Furnishers located in every zone, crafted using Furnishing Plans, automatically earned as Achievement rewards, and yet more can be bought with Crowns both within bundles in the Crown Store or directly from the Housing Editor. Some furnishings can be earned or obtained for free from the Crown Store as well, such as from the Daily Rewards calendar or directly during certain promotions or events.
Furnishings are categorized by room function:
Collectible Furnishings — Mounts, pets, and other things you can place in a house found in your Collections menu
Conservatory Furnishings — Plants and rocks
Courtyard Furnishings — Stone and wooden ornaments
Dining Furnishings — Tables, chairs, and counters
Gallery Furnishings — Artwork, display pieces, and awards
Hearth Furnishings — Cabinets, pottery, and food items
Library Furnishings — Shelves, desks, and literary reprints
Lighting Furnishings — Lamps, braziers and fireplaces
Miscellaneous Furnishings — Esoteric items
Parlor Furnishings — Sofas, banners, carpets, and knick-knacks
Services Furnishings — Assistants, crafting stations, and mundus stones
Structures Furnishings — Tents, platforms, and blocks
Suite Furnishings — Bedding, trunks, wardrobes, and dividers
Undercroft Furnishings — Sacred and symbolic items, and graveyard items
Workshop Furnishings — Cargo crates, tools, mechanisms, and materials
For specialized lists organized by source, see:
Furnishings listed without a Source may not yet have been found in-game; while some of these may be rewarded through certain activities, such as fishing, theft, or pickpocketing, many are simply not yet available.
Items sold at the luxury furnishing vendor are sold during the weekend only, and are then replaced with new items the following weekend.
Furnishings
Furnishing Plans by Profession