Online:Zanil Theran
The UESPWiki – Your source for The Elder Scrolls since 1995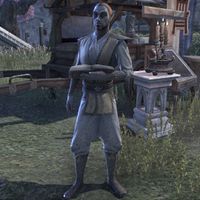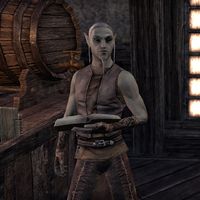 Zanil Theran is a Dunmer luxury furnisher who can be found at Cicero's Food & General Goods in the Hollow City. He is only present on weekends, starting from midnight UTC on Saturday (Friday 7:00 PM EST, 4:00 PM PST) and leaving at noon UTC on Monday (7:00 AM EST, 4:00 AM PST).
Dialogue
[
edit
]
Zanil will greet you with one of the following lines:
"Add a few of these priceless heirlooms to your home and you'll be one step closer to perfection. Just like me."
"Idle gold doesn't do anyone any good. Reinvest it, I say! And my furnishings make for wonderful investments, as you can plainly see."
"They say you can't take it with you, so I say spend it and live like a king! I have just the piece your home has been craving."
"I detest linen sheets, don't you? Silk or nothing, I always say."
"You never know where I'll turn up next, so take advantage of your good fortune while we're both in the same location."
"I search the world for the rarest of accouterments so you don't have to!"
"Sound advice, on the house. My rare and impeccable home goods will turn your hovel into a palace!"
"Exquisite home goods, guaranteed to put a twinkle in Almalexia's eye. Or Vivec, if that's your preference."
"Impress your guests! Make your home the envy of your friends and enemies! Just imagine how this will look inside your four walls."
"Opulence. I have it. You can, too. For the right price."
Zanil Theran and his store were first available on February 24, 2017.