UESPWiki:News
The UESPWiki – Your source for The Elder Scrolls since 1995
This is where news for the main page is written, whether it be about The Elder Scrolls or about our site. If you would like to write news for the main page, simply create a header in the "Proposed News" section and write a brief news story underneath. Others will come by behind you and clean it up, and an administrator may feature it on the main page once it becomes brilliant prose.
Currently Featured News
The Elder Scrolls Online: The Deadlands Released —

November 16, 2021
As of today, The Deadlands DLC for ESO is now released on all platforms. This update adds two new zones, Fargrave and the Deadlands, and concludes this year's Gates of Oblivion storyline. Update 32 also includes a host of quality of life changes, including the introduction of Armory Stations for quickly switching character builds, and guaranteed set drops to reduce the grind required to complete many of the game's sets.
Podcast to Celebrate Skyrim's 10th Anniversary —

November 11, 2021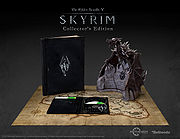 We had a great time in our Twitch stream as we celebrated and reminiscenced about 10 years of Skyrim. Congratulations to RobThePrincess for winning an unopened copy of the original Skyrim's Collector Edition!
The Elder Scrolls V: Skyrim Anniversary Edition Released —

November 11, 2021
Skyrim's Anniversary Edition has been released today to celebrate the 10th anniversary of the game's original release. Special Edition owners can purchase the Anniversary Upgrade to receive all current Creation Club content, including 26 new Creations that have also been released today. These new Creations can be purchased individually from the in-game store if desired. The Anniversary Edition is also available for standalone purchase if you do not yet own Special Edition. Existing Creations have received various updates and bug fixes, and a number of new and old Creations are now available for free for all Special Edition owners.
Happy 10th Anniversary from the UESP!
Details of The Elder Scrolls V: Skyrim Anniversary Edition and Upgrade Announced —

October 29, 2021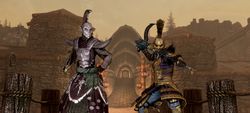 Bethesda have announced further details of the content to be included in the Anniversary Edition for Skyrim when it releases on November 11, 2021. This announcement provides an overview of the free content coming to all Special Edition owners, including the new Fishing system. It also offers a first glimpse at the new content that will be included with the Anniversary Edition, including "Ghosts of the Tribunal" and "The Cause". Existing Creation Club content will also be included with the Anniversary Edition, but will be encountered through natural gameplay (as opposed to the current system which bombards the player with quests upon exiting the tutorial).
You can watch the official announcement video here.
Bounties of Blackwood Event Has Ended —

October 12, 2021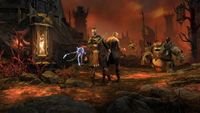 The Elder Scrolls Online Bounties of Blackwood event has finished, and event rewards are now available in the Crown Store for free to Blackwood owners. In addition to the previously announced rewards, this bundle also includes the upcoming Deadlands DLC, so be sure to grab it within the next two weeks.
As a result of community stretch goals being reached, an additional Explorer's Celebration mini-event has kicked off today, and will run until the 20th of October. This event is available to all players and offers increased XP, gold, and resource node drops in all zones.
Bounties of Blackwood Event Starting Soon —

September 28, 2021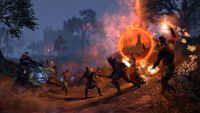 The Elder Scrolls Online team have announced an upcoming event for people who have the Blackwood Chapter. This event, called "Bounties of Blackwood", will focus on the Blackwood Pathfinder achievement. Community progress will increase by visiting all of the striking locales of Blackwood, and can be tracked by this progress bar. More rewards will be unlocked as the progress bar is filled in by the community:
At 33% the community will unlock the Pellucid Swamp Jelly pet.
At 66% the community will unlock the Shadows of Blackwood markings
At 100% the community will unlock a cascading bounty box.
Additionally, a mystery prize will be unlocked at 100%, which will be revealed at the Gates of Oblivion Year-End Stream. If you have already unlocked the achievement, your progress will be retroactively counted, and you can still help by unlocking it on another character again.
There will also be bonuses for adventuring in Blackwood during this period, with Glorious Blackwood Legates' Coffer rewarded for the first daily quest completed each day, and regular Blackwood Legates' Coffers rewarded for performing more daily quests or completing other tasks. Lastly, normal reward boxes will have their contents doubled during this period, harvest nodes will yield more, drops will be better, and you can earn event tickets during the event.
Bounties of Blackwood will begin on September 30th at 10AM EDT, and end on October 12th at the same time. You can learn more from the official announcement or from our article.
The Elder Scrolls V: Skyrim Anniversary Edition Announced —

August 21, 2021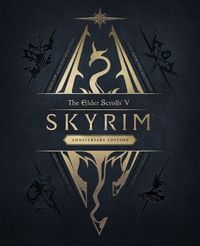 A ten year Anniversary Edition for Skyrim has been announced at QuakeCon 2021, due to be released on November 11, 2021. This new version includes the Special Edition (and therefore all DLC) along with all 48 currently available Creations plus 26 new ones. Owners of the Special Edition can purchase an upgrade to the Anniversary Edition.
In addition to this paid upgrade, owners of the Special Edition will receive a free update which adds fishing, Survival Mode, and Saints & Seducers to the game for free. Those who own the Special Edition on Xbox One and PS4 will also be receiving a free next-gen port to Xbox Series X|S and PS5 respectively.
You can see the official announcement here.
The Elder Scrolls Online: Blackwood Soundtrack Released —

July 1, 2021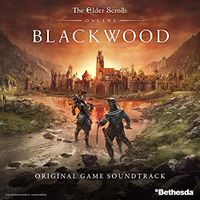 The soundtrack for The Elder Scrolls Online: Blackwood has been released. The original soundtrack has been made available on Spotify, iTunes, YouTube Music, and Amazon.
You can see the official announcement here, and you can learn more about the soundtrack on our article.
The Elder Scrolls Online: Deadlands Announced —

June 14, 2021
The next two DLCs for The Elder Scrolls Online have been announced at the Xbox and Bethesda E3 conference.
The next DLC is a dungeon pack and will be named Waking Flame. The fourth and final DLC of 2021 is titled Deadlands. It is a zone DLC and will take place in Mehrunes Dagon's realm of Oblivion, the Deadlands. Both of these updates are part of the year-long Gates of Oblivion storyline. Further details on both DLCs will be forthcoming at a later date.
An ESO Plus free trial will be kicking off today, June 14th, in anticipation of the release of the Console Enhanced edition on Xbox Series X
The Elder Scrolls Online: Blackwood Released —

June 5, 2021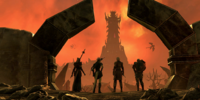 The Blackwood chapter for ESO officially launched on PC/Mac on June 1. Console release is scheduled for June 8. This new expansion adds the Blackwood zone, a marshland spanning the southern reaches of Cyrodiil and stretching deeper into Black Marsh than was previously seen in The Elder Scrolls IV: Oblivion.
To coincide with the launch of Blackwood and Update 30, the Champions Reforged mini-event has kicked off and will last for two weeks from launch. During this period, Champion Point respecs can be done for free.
The Elder Scrolls Online: Blackwood Chapter Preview —

April 15, 2021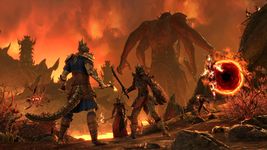 Interested in learning more about the upcoming Elder Scrolls Online Chapter: Blackwood? UESP was given access to explore a special Preview build and have been playing through it for the past week. We wrote a post with all the new features we were able to test out over on the UESP Blog.
Proposed News
[
edit
]
Past News
[
edit
]
Older news should be bumped down to this section before being permanently archived (see right). There is no set length of time that an article should remain visible on the Main Page; that should be decided based on the importance of the news, as well as aesthetics.
Support the UESP on Patreon!

Blades Easter Hunt —

April 5, 2021

Jester's Festival 2021 and Blades Second Anniversary —

March 26, 2021

Christopher Plummer Dies Aged 91 —

February 5, 2021

Dwarven Mail Creation Temporarily Free —

February 4, 2021

Robert A. Altman Dies Aged 73 —

February 2, 2021

The Elder Scrolls Online Starts Midyear Mayhem Event —

January 28, 2021

The Elder Scrolls: Blades Patch 1.11 Releases —

January 28, 2021

The Elder Scrolls Online Reveals Details on Gates of Oblivion —

January 26, 2021

Dragonscale Creation Temporarily Free —

January 21, 2021

ESO Plus Free Trial Begins —

January 19, 2021

Elder Scrolls Online Global Reveal Event Delayed —

January 13, 2021

Stalhrim Fur and Nix-Hound Creations Temporarily Free —

January 8, 2021

Archives