UESPWiki:News
The UESPWiki – Your source for The Elder Scrolls since 1995
This is where news for the main page is written, whether it be about The Elder Scrolls or about our site. If you would like to write news for the main page, simply create a header in the "Proposed News" section and write a brief news story underneath. Others will come by behind you and clean it up, and an administrator may feature it on the main page once it becomes brilliant prose.
Currently Featured News
UESP 25th Anniversary Coins Finished! —

September 25, 2020
We just received an image of the finished coins for the 25th anniversary of the Unofficial Elder Scrolls Pages. We are pleased to announce that all of our current Patrons will receive one! Additionally, anyone who supports our Patreon before December 31st with any of the annual tiers (lowest priced one starting at $21.60 per year) will also receive a coin, along with the other benefits of that tier.
You can learn more about these coins, and how to support this site, over at our Patreon.
Creation Club Set to Return by End of Year —

October 02, 2020

After nearly a full year absent of releases, it has been announced that the Creation Club will be returning soon, with the current goal being to have a release before the end of the year. Originally there was an expected release scheduled for sometime in March, but all of the new Creations were delayed due to Bethesda transitioning to remote work in the face of the COVID-19. While everything was ready, including the patch, the transition made it impossible to release it as is for reasons that were not disclosed, according to Cartogriffi, Bethesda's Community Content Manager.
Additionally, while Bethesda is planning on having a release of some of the Creations before the year is over, they claim that they did not stop development of Creations over this year, and that they will most likely have to have multiple releases due to the quantity of work done. While specific details about most of the content was not provided at this time, the Community Content Manager mentioned that an experimental Creation for both The Elder Scrolls V: Skyrim and Fallout 4 was approved that would have solely focused on a quest, instead of an item or location reward. However, with the delay, the scope of both of those experiments were raised to also feature notable item rewards.
Bethesda has chosen not to provide a solid release date at this point due to the previous delays, but we will update you when we have more information. You can read the initial announcement here. You can read a response from Cartogriffi discussing the delay here.
Call to Arms News —

October 02, 2020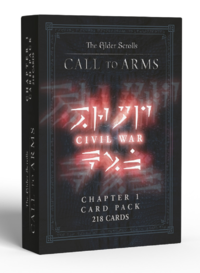 The Elder Scrolls: Call to Arms, the tabletop adventure wargame created by Modiphius Entertainment released earlier this year, has continued to release new products as part of the Chapter 1: Civil War wave. The Adventurer Allies and Adventurer Followers sets bolstered the Adventurer faction with some familiar faces such as Mjoll, Derkeethus, and Lydia, giving the Dragonborn a proper team to lead on dungeon-delving adventures. This month, pre-orders have opened for Imperial Officers and Stormcloak Chieftains, which means Hadvar and Ralof will soon have reinforcements from the likes of Legate Rikke, Ulfric Stormcloak, and even Heimskr.
Also up for pre-order is the Chapter 1 Card Pack. This set provides all of the materials for the units, quests, equipment, traps, and more to support all releases throughout this chapter. This will cover sets planned through January 2021: Draugr Ancients, Draugr Guardians, and a powerful Master level Dragon Priest planned for November; Imperial Legion Reinforcements, Stormcloak Skirmishers, and a massive Dragon intended for December; Skeleton Horde set to arrive in January.
There are several other releases planned to expand how the game is played. Alongside the Draugr sets in November, new faction rules will be released allowing you to use Draugr as a player-controlled faction, rather than as AI Adversaries. They will also be releasing a random dungeon generator system. Come December, in addition to the supplement to support the new dragon model, Modiphius will release the biggest pieces of the chapter: Histories of the Empire: The Stormcloak Rebellion and Tales of Tamriel: The Thanehold Saga. The first is a series of linked campaign missions to reenact the war for Skyrim. The latter is a narrative campaign, featuring both character progression and settlement building.
In February, we move on to the next page in the story; Chapter 2: Steam and Shadow. Check out more here.
Lost Treasures of Skyrim Event Successfully Completed —

October 02, 2020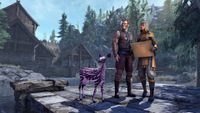 The Lost Treasures of Skyrim event has successfully been completed by the Elder Scrolls Online community. For those who were not familiar with the event, players had between September 23 until October 5 to dig up an undisclosed number of antiquities, in return for various rewards. Earlier today the ESO team announced that players had already reached the goal, with three days to spare. Players who own the Greymoor chapter have from now until October 15th at 10AM ET to claim the rewards through a free bundle in the Crown Store. Players who claim the bundle will receive:
Horror Within Face and Body Markings
Orchidfall Vale Fawn pet
Antiquarian's Alpine Gallery player house and the Antiquarian Phedre Houseguest
You can read the official announcement of the event here. While the antiquity goal has been reached, players can still receive bonus rewards for various activities in Western Skyrim until the event officially expires on October 5th at 10AM ET.
Bone Wolf Creation Temporarily Free —

October 01, 2020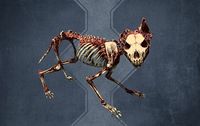 Marking the arrival of the spookiest month of the year, the Creation Club is offering the Bone Wolf Creation for free during the current sale period. By redeeming it during this period, it will be permanently unlocked to your account, even after the current sale ends. Additionally, the Mad God Bundle, the Goblin Creation, the Plague of the Dead, and Dead Man's Dread are on sale, with discounts ranging from 25 to 40 percent off normal price.
Based on observed trends, Creation Club offers are usually refreshed every two weeks on a Thursday, so be sure to grab these before October 15th.
Microsoft to acquire ZeniMax Media —

September 21, 2020
Microsoft Corporation have today announced their acquisition of ZeniMax Media Inc. along with its subsidiary game publisher Bethesda Softworks and its studios Bethesda Game Studios and ZeniMax Online Studios. The deal was worth $7.5 billion USD.
Microsoft have stated their intention to bring Bethesda's franchises to Xbox Game Pass, with a same-day launch on Game Pass for any new Bethesda games released to Xbox and PC. Future Bethesda games will be on Xbox, PC, and "other consoles on a case-by-case basis" according to Xbox chief Phil Spencer.
Todd Howard and Matt Firor have written statements on the purchase, and Pete Hines has issued a press release.
Elder Scrolls Online: Markarth and Update 28 Details Revealed —

September 20, 2020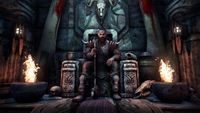 The Elder Scrolls Online team held a stream to discuss Elder Scrolls Online: Markarth, and with it the conclusion to the Dark Heart of Skyrim storyline. As suspected, Markarth and The Reach will serve as the primary setting for the expansion, alongside another previously unexplored segment of Blackreach. The DLC will feature you forming a tenuous alliance with the Reachmen clans of the area, such as those led by the Despot of Markarth, against the Gray Host and the plans of Rada al-Saran. The developers also teased that a major secret about Verandis Ravenwatch would be revealed.
Another major feature of the DLC was the new Arena, Vateshran Hollows. The Arena will feature three areas:
Unlike previous arenas, you will be traveling through an area with sections restricted by gatekeepers you must destroy, instead of waiting for enemies to spawn. You can enter the areas in any order you desire, and once you clear all three you will unlock the currently unannounced final boss.
The DLC will also feature seventeen new item sets, with that total including the new Arena sets. There will also be twenty new Antiquities, as well as two new Mythic Items. Alongside this, a new Item Set Collection feature was revealed, allowing players to save and recreate collected item sets.
New and upcoming events were also discussed. Of particular note is the upcoming Lost Treasures of Skyrim event, focusing on the Antiquity system, and features community-wide awards for participation. A promotion called Tamriel Together was also announced, although it has only been mentioned that it will involve a sweepstakes, a guild contest, and more unannounced features. The schedule for the remaining events for the year includes:
The expansion will be available on November 2nd for the PC, Mac, and Stadia platforms. Console players will be able to finish the Dark Heart of Skyrim on November 10th. The DLC will be immediately available to any ESO Plus subscribers, or will be available for purchase through the Crown Store. The DLC can be experienced early on the PTS on September 21st.
The official announcement can be seen here. A large post detailing the combat changes in Update 28 can be read on the official forums. Additionally, the Lost Treasures of Skyrim announcement can be seen here.
Proposed News
[
edit
]
Past News
[
edit
]
Older news should be bumped down to this section before being permanently archived (see right). There is no set length of time that an article should remain visible on the Main Page; that should be decided based on the importance of the news, as well as aesthetics.
Elven Hunter Creation Temporarily Free —

September 20, 2020

Elder Scrolls Online: Markarth Confirmed for Fourth Quarter Expansion —

September 10, 2020

Dragonscale and Nix-Hound Creations Temporarily Free —

September 07, 2020

Elder Scrolls Online Imperial City Celebration Begins —

September 03, 2020

ESO Update 27 and Stonethorn Goes Live —

August 24, 2020

Dwarven Mail and Camping Creations Temporarily Free —

August 24, 2020

Greymoor's Soundtrack Released —

August 19, 2020

The Elder Scrolls Online Confirmed for Xbox Series X and PlayStation 5 —

August 06, 2020

QuakeCon At Home Begins —

August 06, 2020

The Elder Scrolls: Blades Releases Update 1.8 —

July 28, 2020

Elder Scrolls Online Summerset Celebration Begins —

July 23, 2020

Free Crown Store Bundle —

July 16, 2020

Stonethorn Update Preview Released —

July 12, 2020

Blades Released on Nintendo Switch —

May 15, 2020

UESP 2020 Charity Event —

May 01, 2020

UESP Previews The Dark Heart of Skyrim: Greymoor —

March 30th, 2020

Support the UESP on Patreon! —

February 07, 2020

Dark Heart of Skyrim Announcements —

January 18, 2020

UESP Survey —

January 03, 2020

Archives