UESPWiki:News/TES V Announced
The UESPWiki – Your source for The Elder Scrolls since 1995
TES V announced at last — it's Skyrim! —

December 11, 2010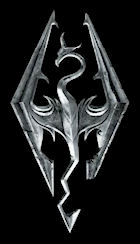 You have less than a year to get ready with a store of arctic clothing: TES V: Skyrim has been announced at the Spike Video Game Awards 2010. The announcement by Todd Howard involved little more than a short video presentation and the date: 11/11/11 — just eleven months from today. The video seems to tell of the return of the Dragons, and someone called "The Dragon Born". Browse the large stone wall that appears in the video — it has many different scenes depicted on it.
You should have acted.
They're already here.
The Elder Scrolls told of their return.
Their defeat was merely delay
Til the time after Oblivion opened,
When the sons of Skyrim would spill their own blood.
But no-one wanted to believe.
Believe they even existed.
And when the truth finally dawns:
It dawns in fire.
But,
There's one they fear.
In their tongue, he's Dovahkiin:
Dragon Born!