UESPWiki:News/Elder Scrolls Online Special Editions
The UESPWiki – Your source for The Elder Scrolls since 1995
Elder Scrolls Online Pre-order and Special Editions Bonuses Released —

January 29, 2014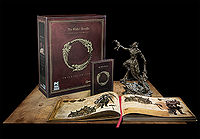 With Elder Scrolls Online only a few months away from public release, information on pre-order and special edition bonuses has finally come out. For starters, all people who pre-purchase the game through the Elder Scrolls Online store or pre-order at a participating retailer will receive the Explorer's Pack, which gives the player the ability to play as any race in any of the Alliances. Additionally, the Explorer's Pack will give the buyer a Scuttler vanity pet, and four bonus treasure maps for some additional loot. As a final bonus to all early purchases, all pre-purchases will allow the buyer to get into the game five days before the official release.
While the pre-purchase of the Standard Edition comes with all of the above, the newly revealed Imperial Edition will give the buyer the ability to play as an Imperial, who were previously announced as being unavailable for the game. The Imperial Edition will also give the player an Imperial White Horse, which can be summoned to be used as a mount, a mudcrab pet, and two Rings of Mara. The Rings of Mara can be used with another player to complete the Ritual of Mara, which will give the two additional experience while playing together from then on. Retail copies of the Imperial Edition will finally come with a 12 inch tall statue of Molag Bal, a map of Tamriel, and The Emperor's Guide to Tamriel, a 224-page guide to Tamriel, featuring annotations from the Imperial scholar Flaccus Terentius.
To go along with these announcements, a new trailer has also been made available to the public.
Update: To further show off the Imperial Edition, an official unboxing of its contents by Lead Loremaster Lawrence Schick has been released.