UESPWiki:News/Legends Jaws of Oblivion Expansion Announced
The UESPWiki – Your source for The Elder Scrolls since 1995
The Elder Scrolls: Legends Announces Jaws of Oblivion Expansion —

October 03, 2019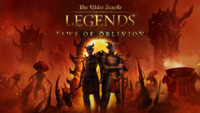 The Elder Scrolls: Legends has revealed its third quarter card expansion, Jaws of Oblivion. The 75+ card expansion draws inspiration from The Elder Scrolls IV: Oblivion, with numerous cards depicting scenes from the fourth main game in the series, in particular focusing on the Oblivion Crisis. The most notable new feature is the new "Invade" mechanic, which sees the Daedric forces become increasingly powerful, and many of the new cards taking part in this system. The expansion will also feature a new playmat, four new card backs, two new theme decks, new music, and new visual effects.
The official announcement can be seen here, and the trailer can be viewed here.
Update, October 10th: The card expansion has officially been released. You can read the full announcement here.