UESPWiki:News/DLC Information Released!
The UESPWiki – Your source for The Elder Scrolls since 1995
Bethesda Announces the First DLC for Skyrim, Dawnguard —

May 1, 2012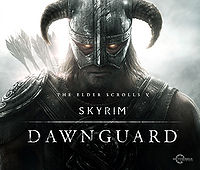 Bethesda Softworks has revealed that the first DLC for Skyrim will be called "Dawnguard" in the latest Beth Blog. Besides the name, an image of the Dovahkiin with glowing eyes was included. The DLC is slated for release this summer on the Xbox 360, with any plans for release on the PC or Playstation 3 still pending due to a previous agreement to release the first two major expansions to the game exclusively on the Xbox 360 for thirty days. Dawnguard originally was brought to public attention when Bethedsa trademarked Dawnguard last February, creating some speculation about what it could be. As of now, there is little to suggest what Dawnguard could be about, with both "Dawn" and "Guard" being common terms throughout the franchise. The next planned release of information relating to the DLC is scheduled for a reveal at E3. Those curious about what Bethesda has planned will have to wait until June 5th at the earliest, the scheduled date for the opening of this year's Electronic Entertainment Expo.