Online: The Howling Sepulchers
The UESPWiki – Your source for The Elder Scrolls since 1995
Undead overrun the Howling Sepulchers, a windswept burial grounds once sacred to the ancient Nedes.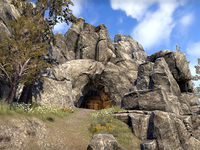 The Howling Sepulchers are a set of valleys in Upper Craglorn containing undead, harpies, and draugr.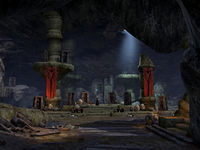 Used long ago by the ancient Nedes as burial grounds, the Howling Sepulchers are now occupied by undead, wispmothers, harpies, wolves and draugr.
In order to clear the dungeon you need to defeat Akiirdal, a resurrected dragon priest. A tame wolf named Shayla and her runt can also be found here.
Although described as Nedic in origin, the Howling Sepulchers have several interior elements distinctive of a Nordic tomb.
Related Quests
[
edit
]
Clearing the Dungeon
[
edit
]
Explore and clear the Howling Sepulchers.
To clear this dungeon and mark it as complete, you need to kill the following bosses:
The following boss is also found in the dungeon, but does not need to be killed to mark it complete:
Achievements
[
edit
]
There is one Achievement associated with this location:
Prior to Update 12, this location was an instanced 4-player Group Delve.
Neither of the two actual Craglorn-based zone quests require this delve to be completed, or the boss to be even encountered, let alone defeated. In fact, both require turning southwest right after entering, and heading into the lower part of the canyon by the river, which does not take you towards the boss's area. However, the Clockwork City prologue "Of Knives and Long Shadows" quest requires entering the Dragon Priest chamber and killing the boss who guards the final chest.
The skyshard can be found by taking the southwestern tunnel from the open space in front of the Dragon Priest chamber (this space being entered from the northwest). From the skyshard, it's either a case of retracing your steps to the entrance, or - if you can survive a fall - jumping straight down.
Gallery
[
edit
]