Online:Anka-Ra Burial Site
The UESPWiki – Your source for The Elder Scrolls since 1995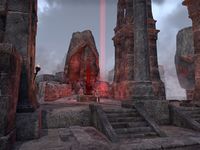 The Anka-Ra Burial Sites are five ruins in western Craglorn. They consist of a small, partially-enclosed area with a red beam of light coming from an altar in the center.
Speaking to the nearby Star-Gazer Priest activates a boss fight where players must repel several waves of enemies. Enemies will attempt to reach the center and kill the priest. The event ends if the either the priest is killed or all the enemies.
Survive the event for a treasure chest that will appear near the altar. Also, a "Consectated Aura" near the altar can be activated to receive the Yokudan Might buff for 1 hour, which increases your damage done by 8% while in Craglorn.
Burial Sites
[
edit
]
Since Update 12, they have been categorized as Group Bosses, with each one having a unique name. Before then, they were listed under Group Events, each as an "Anka-Ra Burial Site". There is also an interior crypt section to some of these locations, guarded by a unique Anka-Ra warrior, such as Tahmin of the Sideways Blade.