Online:Hel Ra Citadel
The UESPWiki – Your source for The Elder Scrolls since 1995
Trial
Discoverable
Yes
Completion
Objective
Dungeon
Yes
# of Zones
1
Zone
Belkarth Region, Craglorn
Location
Southwestern Craglorn
Loading Screen

When the warriors of the Ra Gada came to the shores of Hammerfell, some of the fiercest cohorts marched far inland in search of domains to claim. Hel Ra was one of the easternmost of these domains, but its gates were sealed long ago.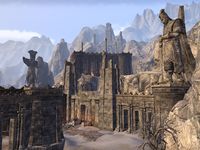 Hel Ra Citadel is an ancient Yokudan fortress in southwestern Craglorn. It has been taken over by The Warrior and his Anka-Ra armies, having been corrupted by The Serpent.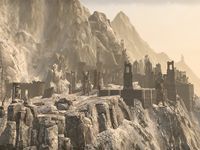 Hel Ra Citadel Hard Mode can be triggered by entering the Veteran version of the trial and destroying the statues in the room before the Warrior's chamber.
Completing a full run of Veteran Hel Ra Citadel will reward 12 Undaunted Plunder worth 12000 gold total (2 from Ra Kotu, 2 from Yokeda Kai or Yokeda Rok'dun, and 8 from The Warrior). You will receive a Star-Studded Champion's Baldric for defeating The Warrior with hard mode active.
Related Quests
[
edit
]
Hel Ra Citadel Objective: Assault the mountain stronghold of the Celestial Warrior.
A Breach Beyond the Crags: Seal the time breaches which have opened throughout Upper and Lower Craglorn.
Characters
[
edit
]
Enemies
[
edit
]
Normal Enemies
[
edit
]
Elite Enemies
[
edit
]
The Bridge
[
edit
]
When you exit the door leading into the trial proper, the speedrun timer (if you're on Veteran) begins. When you exit the door, you'll find yourself on a sandy ridge overlooking a canyon. A few corpses and a backpack are not too far from the door, and a Torn Page lies near an abandoned sword. Many groups will get on their mounts and race to the bridge, which is located to the northeast. You'll run along the northern ridge, heading east. Talirinde is slumped against a crate in front of the bridge. She warns you of the citadel's war horn before falling unconscious.
Achievements
[
edit
]
There are 5 achievements associated with this location:
Set Name
Bonuses
Armor Weight
Destructive Mage

2 items: Adds 25-1096 Maximum Magicka
3 items: Adds 15-657 Critical Chance
4 items: Adds 3-129 Weapon and Spell Damage
5 items: When you deal damage with a fully-charged Heavy Attack, you place a bomb on the enemy for 10 seconds. When they are hit with a fully-charged Heavy Attack the bomb detonates, dealing 952 Magic damage all enemies within 8 meters. This effect can occur once every 4 seconds and scales off the higher of your Weapon or Spell Damage.

Light Armor
Poisonous Serpent

2 items: Adds 25-1096 Maximum Stamina
3 items: Adds 3-129 Weapon and Spell Damage
4 items: Adds 25-1096 Maximum Stamina
5 items: When you deal damage with a Light or Heavy Attack against an enemy who has a Poison Damage ability on them, you deal an additional 571 Poison damage. This effect can occur once every 2 seconds and scales off the higher of your Weapon or Spell Damage.

Medium Armor
Berserking Warrior

2 items: Adds 15-657 Critical Chance
3 items: Adds 3-129 Weapon and Spell Damage
4 items: Adds 15-657 Critical Chance
5 items: When you deal Martial melee damage, your Critical Chance is increased by 5-241 for 5 seconds, stacking up to 10 times. This effect can occur once every half second.

Heavy Armor
Set Name
Bonuses
Location(s)
Set Type
Infallible Mage

2 items: Adds 15-657 Critical Chance
3 items: Gain Minor Slayer at all times, increasing your damage done to Dungeon, Trial, and Arena Monsters by 5%.
4 items: Adds 3-129 Weapon and Spell Damage
5 items: Adds 15-657 Critical Chance
5 items: Your Heavy Attacks deal an additional 20-900 damage. Enemies you damage with fully-charged Heavy Attacks are afflicted with Minor Vulnerability for 10 seconds, increasing their damage taken by 5%.

Aetherian Archive
Hel Ra Citadel
Sanctum Ophidia
Light Armor
Vicious Serpent

2 items: Adds 15-657 Critical Chance
3 items: Gain Minor Slayer at all times, increasing your damage done to Dungeon, Trial, and Arena Monsters by 5%.
4 items: Adds 15-657 Critical Chance
5 items: Adds 3-129 Weapon and Spell Damage
5 items: Reduces the cost of your Stamina abilities by 8%. When an enemy you have recently damaged dies, you restore 57-2454 Stamina and gain Major Expedition for 8 seconds, increasing your Movement Speed by 30%. These effects can occur once every second.

Aetherian Archive
Hel Ra Citadel
Sanctum Ophidia
Medium Armor
Eternal Warrior

2 items: Adds 4% Healing Taken
3 items: Gain Minor Aegis at all times, reducing your damage taken from Dungeon, Trial, and Arena Monsters by 5%.
4 items: Adds 28-1206 Maximum Health
5 items: Adds 4% Healing Taken
5 items: When you take damage while below 25% Health in combat, you heal for 9370 Health and gain 2-100 Ultimate. This effect can occur once every 1 minute and the heal scales off your Max Health.

Aetherian Archive
Hel Ra Citadel
Sanctum Ophidia
Heavy Armor
Gallery
[
edit
]
Hall of the Warrior
[
edit
]
This trial scales to the Champion Points of the group leader, to a maximum of 160.
Hel Ra Citadel originally scaled to 12 and had no Normal mode.
There are several books that can be found in this trial: Felgol's Note (outside The Warrior's chamber on Veteran; this book tells you how to initiate Hard Mode), This Text Property of Leki's Blade (outside The Warrior's chamber), incomplete list