Online:Hel Ra Citadel
The UESPWiki – Your source for The Elder Scrolls since 1995
When the warriors of the Ra Gada came to the shores of Hammerfell, some of the fiercest cohorts marched far inland in search of domains to claim. Hel Ra was one of the easternmost of these domains, but its gates were sealed long ago.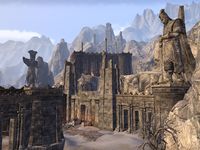 Hel Ra Citadel is an ancient Yokudan fortress in southwestern Craglorn. It has been taken over by The Warrior and his Anka-Ra armies, having been corrupted by The Serpent.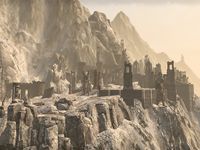 Hel Ra Citadel Hard Mode can be triggered by entering the Veteran version of the trial and activating the War Horn prior to the final boss fight.
Related Quests
[
edit
]
Hel Ra Citadel Objective: Assault the mountain stronghold of the Celestial Warrior.
A Breach Beyond the Crags: Seal the time breaches which have opened throughout Upper and Lower Craglorn.
Characters
[
edit
]
Enemies
[
edit
]
Normal Enemies
[
edit
]
Elite Enemies
[
edit
]
Achievements
[
edit
]
There are 5 achievements associated with this location:
Set Name
Bonuses
Location(s)
Set Type
Infallible Mage

2 items: Adds 9-833 Spell Critical
3 items: Gain Minor Slayer at all times, increasing your damage done to Dungeon, Trial, and Arena Monsters by 5%.
4 items: Adds 1-129 Spell Damage
5 items: Adds 9-833 Spell Critical
5 items: Your fully-charged Heavy Attacks deal an additional 10-903 damage. Enemies you damage with fully-charged Heavy Attacks are afflicted with Minor Vulnerability for 10 seconds, increasing their damage taken by 8%.

Aetherian Archive
Hel Ra Citadel
Sanctum Ophidia
Light Armor
Vicious Serpent

2 items: Adds 9-833 Weapon Critical
3 items: Gain Minor Slayer at all times, increasing your damage done to Dungeon, Trial, and Arena Monsters by 5%.
4 items: Adds 9-833 Weapon Critical
5 items: Adds 1-129 Weapon Damage
5 items: Reduces the cost of your Stamina abilities by 8%. When you kill an enemy, you restore 25-2150 Stamina and gain Major Expedition for 8 seconds, increasing your Movement Speed by 30%.

Aetherian Archive
Hel Ra Citadel
Sanctum Ophidia
Medium Armor
Eternal Warrior

2 items: Adds 4% Healing Taken
3 items: Gain Minor Aegis at all times, reducing your damage taken from Dungeon,Trial, and Arena Monsters by 5%.
4 items: Adds 14-1206 Maximum Health
5 items: Adds 4% Healing Taken
5 items: When you die, you instead turn into a statue for 3 seconds and generate 200 Ultimate. While a statue you are immune to all negative effects but can still be healed. This effect can occur once every 10 minutes.

Aetherian Archive
Hel Ra Citadel
Sanctum Ophidia
Heavy Armor
Gallery
[
edit
]
Hall of the Warrior
[
edit
]