Online:Mindil the Untested
The UESPWiki – Your source for The Elder Scrolls since 1995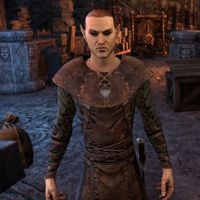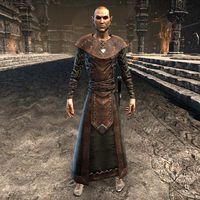 Mindil the Untested is an Altmer who can be found in the Salted Wings Tavern in Vulkhel Guard. He is a member of the Undaunted. You will meet him again outside The Parchment & Horn in Marbruk, and he will tell you about Arx Corinium and the City of Ash.
Dialogue
[
edit
]
Before you join the Undaunted, he will say, "I hope my friends aren't being too loud. They're friendly people, really. Once you get to know them. They'd be more friendly if you were an Undaunted." He will tell you about Spindleclutch and Fungal Grotto, marking them on your map if you have not discovered them already.
Tell me about these "bigger monsters".

"I've two leads. One is in Daggerfall territory, the other in Ebonheart Pact."

Tell me about the one in the Daggerfall Covenant.

"Way out in Glenumbra, in the area called Hag Fen, are a series of caves called Spindleclutch. I've heard tale of nasty spiders there- bigger than horses. Not even the Fighters Guild has been able to drive them away."

Tell me about the one in the Ebonheart Pact.

"Does a cave infested with Goblins and dreugh sound like a good fight? Because that's what you'll find in Fungal Grotto. It's out in Stonefalls. Rumor has it even the Goblins are scared to death of the thing that crawled out from the depths there."
Assaulting the Citadel
[
edit
]
Once The Warrior is defeated in the Hall of the Warrior, Mindil will arrive with Kailstig the Axe and reward you with the Warrior's Dulled Coffer:
"My friend, you're victorious!
I hope Hel Ra Citadel was fierce enough for you!"

I've explored Hel Ra Citadel and defeated the opponents within.

"You've outdone us, friend. You've reached the heart of this Citadel before the Undaunted.
This doesn't happen often, but we'd like to give you something special to commemorate your feat!"
After completing the quest, you can speak to him again and he will say "You certainly seem like you can take care of yourself. Where did you learn to become so formidable? Sword-singer manuals?"
Related Quests
[
edit
]
His subtitles say "They'd be more friendly if you were Undaunted," while his audio says "They'd be more friendly if you weren't Undaunted" ?