Skyrim:Merchants
The UESPWiki – Your source for The Elder Scrolls since 1995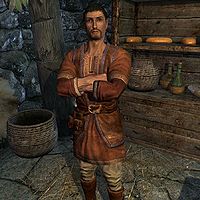 This page summarizes all of the merchants available in Skyrim.
The amount listed under "Gold" is the base amount of gold that the merchant has available to purchase items from the player. Merchants will generally have 3-40 gold more than listed, because their personal pocket change is added to the merchant-specific gold. Gold is reset each time the merchant's inventory is reset or every 48 hours. Merchant gold can be increased in several ways:
The Master Trader perk increases nearly all merchants' gold by 1000. The merchants who have more gold are all identified in the notes of the following tables.
The Investor perk allows you to invest 500 gold in certain merchants, after which that merchant will permanently have 500 more gold available. Some merchants are bugged -- they have the dialogue allowing you to pay them 500 gold, but doing so does not result in any permanent change in the merchant's available gold. These merchants are not checked in the "Invest" column in the following tables, but instead the bug is noted on the individual merchant page. Investing in a merchant improves that merchant's disposition towards you, which can count towards becoming a Thane in the relevant Hold, if you are on the appropriate quest to help members of that hold.
The merchandise column provides information on what type of merchandise each merchant will buy and sell. In those cases where merchants are not in a typical category, full details are provided on the specific item types they will buy and sell. However, for most merchants, one of the following categories is provided:
Merchant Type
Buys and Sells
Notes
Apothecaries
Alchemy-related merchandise: Animal Parts, Food, Ingredients, Poisons, Potions, Raw Food, Recipes
Blacksmiths
Animal Hides, Armor, Arrows, Ore/Ingots, Tools, Weapons
Fences
Any items
These are only available to people who have joined the Thieves Guild. Each fence has a particular quest that must be completed to make them available. Fences originally only have 1000 merchant gold, but that can be increased to 1500, 2250, 3000, and then ultimately 4000 gold by upgrading the guild. They are the only merchants who will purchase stolen goods, unless the Fence perk is unlocked.

Note: Fences cannot be invested in, but are affected by the Master Trader perk

General Goods
Will buy any items and sell a variety of items, usually of lower value than more specific merchant types.
Hunters
Food, Ingredients
Innkeepers
Food, Raw Food
Innkeepers can never be invested in.
Jewelers
Gems; Jewelry; Ore/Ingots; Tools
Jewelers can never be invested in, and the Master Trader perk does not affect their gold amount.
Spell vendors
They will both buy and sell magic-related merchandise, including spell tomes, soul gems, enchanted clothing, and the like. Additionally, they will buy jewelry, regular clothing (but not armor), books, scrolls, staves, and Daedric artifacts.
If the Merchant perk is unlocked, all merchants will purchase all types of items. The perk also makes some additional items available for purchase. All vendors will sell you items from their personal inventory, possibly including food, lockpicks, and gems. They will also sell you any bugged items that are in their merchant chests. Most notably, apothecary merchants will sell a dozen ingredients that normally they are unable to sell.
Note that outside of Hunters, Peddlers, and Skooma Dealers, merchants rely on merchant chests for their merchandise, and the chest contains whatever Leveled_Lists it was assigned; this is the primary reason Investor and Master Trader only sometimes work, because both rely on the relevant chest containing Perk-based gold. Hence, while the merchant types listed here can be generally relied upon to determine what a merchant will buy from you, they should be regarded as guidelines, not rules, for what the merchant will sell you - for example, this is why the Skyforge chest contains unique items for sale no other merchant sells, even though it is listed as a "Blacksmith" below.
Whenever two merchants are listed together in the following tables, it means that the two merchants share the same merchant chest. Therefore, the merchants will always provide the exact same list of items, and share the same merchant gold. If one of the people is listed in parentheses, that person only takes over the store if the first person dies. Investing in a store with two merchants, or with successive merchants, will increase the available amount of gold for all merchants, but may only improve the disposition of one (this is particularly noticeable at Radiant Raiment with the Altmer sisters Endarie and Taarie.)
If you are married then your spouse will open a store, whose merchant chest is located inside the home where your spouse lives. If your spouse is on the list below, then he or she will continue to sell the same type of items. Otherwise, your spouse will become a general goods trader.
Outside Towns
[
edit
]
Lod and Zaria are investable now with the Unofficial Skyrim Special Edition Patch. Please check whether they are investable in Legendary Edition or with no patch.
†
It is possible to invest endlessly with
Angeline
. She never loses the dialogue option to invest, but her permanent base gold cannot increase, due to a
bug
.
This is fixed by the Unofficial Skyrim Patch (both Legendary and Special Edition versions).
Other Locations
[
edit
]
Falion is investable with the most recent Unofficial Skyrim Special Edition Patch. Please check if he's investable in the Legendary version, or with no Unofficial Patch at all.
Other Locations
[
edit
]
†
Ghorza gra-Bagol will have the dialogue option to invest in her store, but the only option is to decline, due to a
bug
. If she dies, however, you can invest in her successor, Tacitus Sallustius. Investing in either one (after having fixed the bug mentioned above) also invests 500 gold in
Moth gro-Bagol
, due to
another bug
.
Both bugs are fixed by the current version of the Unofficial Skyrim Legendary Edition Patch.
Other Locations
[
edit
]
Other Locations
[
edit
]
Filnjar in Shor's Stone can be invested, with the most recent versions of Skyrim and the Unofficial Skyrim Special Edition Patch (please check if he can be invested with the Legendary version, or without the Unofficial Patches at all)
Atub and Garakh at Largashbur were apparently intended to be merchants (apothecary and blacksmith respectively), but do not function as one due to a bug.
Anoriath will allow you to invest in his store, but his available gold will not increase due to a bug.
Adrianne Avenicci is unique in having access to two merchant chests; when she is outside during the day, she sells items from a separate chest. When she is inside and the store is open, she uses the same chest as Ulfberth War-Bear. The two chests are counted as separate stores for the purpose of investing. However, you can only invest once.
Elrindir is investable with the most recent Unofficial Skyrim Special Edition Patch. Please check whether this is true for Legendary Edition, or for no patch at all.
Other Locations
[
edit
]
Not Specific to One Hold
[
edit
]
*
Hunters will not dissipate their wealth when you sell them things. They have theoretically unlimited wealth. It is just that they will only pay up to a certain amount of gold for a single item, or a single stack of items.
Merchants who are also Trainers add the gold that you pay them for training to the gold they carry in their personal inventory. As such, it then becomes available to be used for bartering as all personal items not equipped can be purchased from a merchant.
Resetting the Speech perk tree using the Black Book Waking DreamsDB does not affect investments that you may have previously made with merchants.
If you move your spouse to one of the homesteads added by the Hearthfire add-on, they will often wander around outside the house where their merchant chest will not be available. To engage in trade with your spouse, wait until they go inside, or if they are a follower you can ask them to follow you and lead them inside.
The game does not save or load inventory and gold contents of merchants. They remain in memory, lost when the game's process terminates. As a result:
Loading a saved game before trading with a merchant does not restore that merchant's state. For example, if you initiate trading with a merchant who has 750 gold, sell things to them until they only have 20 gold left, then load a saved game, the merchant's gold will still be at 20. Any items you bought before reloading will also be gone from the merchant's inventory.
Closing the game and opening it again resets all merchants' inventory and gold contents. You can sell items to a group of merchants until they run out of golds, save and close the game, re-open and reload the game, and resume selling items to the same merchants whose inventory and gold contents are reset.
Another way to cause a trader to reset prematurely is to save your game, attack them until they become hostile, and then reload the saved game.
If a merchant is talking to you as you are leaving their store, they will exit along with you, re-enter their store, lock the doors and close for the day. ?
Trading with vendors becomes unreliable when their gold reserves exceeds 32,767. The game's internal trading mechanism mistakenly treats their gold quantity as a signed 16-bit integer, whose value could be between -32768 and 32767. If you buy a lot of expensive items or receive high-level skill training, so much so that their gold reserve goes beyond 32,767, an Integer overflow bug occurs. Thus, you can still sell them items, but you lose the item without gaining any gold. Complicating the matter is the fact that each vendor's gold reserve is the sum of gold in their inventory plus the gold in their chests.
Merchants can sometimes lose the dialogue option "What have you got for sale?" making it impossible to trade with them.