Skyrim:Rorikstead
The UESPWiki – Your source for The Elder Scrolls since 1995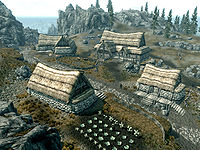 Rorikstead is a farming town in western Whiterun Hold. It is named after the noble Rorik, who owns a 'manor' in the village.
The village claims not to have had a bad harvest in years. It contains several crop fields from which you may harvest food.
Despite its namesake still living, Rorikstead is mentioned in two much older accounts: The Merethic or First Era text Holdings of Jarl Gjalund (as "Rorik's Steading") and the Atlas of Dragons from the Second Era. This may be a mistake on the developers' part. It is also mentioned in the bard's song Ragnar the Red as "ole Rorikstead", which may be taken to indicate that the current town is named after an ancient predecessor.
Related Quests
[
edit
]
Quests Starting Here
[
edit
]
Other Quests
[
edit
]
After the quest Dragon Rising, you are very likely to encounter a dragon attacking Rorikstead. Fittingly, Guards in Whiterun will mention how Rorikstead is usually a calm place, but is vulnerable to a dragon attack.[verification needed — Do the game mechanics have a special heightened ratio of dragon attacks for Rorikstead?]
The above encounter, throughout most of the game, is likely to be with a random unnamed dragon; however, the named dragon Nahagliiv is buried in a mound not far west of the town, and will be resurrected by Alduin during A Cornered Rat.
Atop the hill directly north of the town a Shrine of Akatosh can be found, along with a Dragon Scale and a copy of the book Kolb & the Dragon.