Skyrim:Ghosts of the Tribunal
The UESPWiki – Your source for The Elder Scrolls since 1995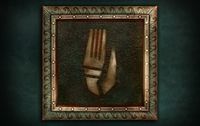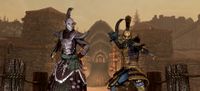 Ghosts of the Tribunal is a Creation for Skyrim Anniversary Edition.
It revolves around the Tribunal, the former Dunmeri gods who have been reduced to mere saints with the ascension of the New Temple. This Creation features content familiar to people who have played The Elder Scrolls III: Morrowind.
Official Summary
[
edit
]
Creation Club

In the aftermath of the Red Year, worship of the Tribunal has been replaced by the Reclamation. Yet the strands of memory linger on Solstheim, the chant of ALMSIVI muttered by rebel priests and devotees of the old way. Includes over a dozen weapons and several armors featured in the Elder Scrolls III: Morrowind, including Hopesfire, Trueflame, and masks of the Tribunal. Quest by Kris Takahashi. (Quest "Ghosts of the Tribunal" starts by reading Heretic Dossier: Blacksmith's Confessional at the Temple in Raven Rock.)

Sneak Peek

In 'Ghosts of the Tribunal' you'll earn over a dozen new weapons and armors previously featured in The Elder Scrolls III: Morrowind
Sneak Peek Ghosts of the Tribunal
Relics of Morrowind are yours to claim, including powerful artifacts like Hopesfire and Trueflame!
Most consider the Tribunal Temple to be a thing of the past. They assume no one would still worship the so-called living gods of Almalexia, Sotha Sil and Vivec after their disappearance. But not all have moved on, and pockets remain following the old ways.
In Ghosts of the Tribunal, you have the opportunity to assist and rebuild one of these rebel groups . . . or wipe them out completely. Whichever you

chose 

[sic], this adventure will reward you with new gear inspired by Elder Scrolls III: Morrowind.
Don the armor of the ancient Ordinators, as well as the holy masks of the Tribunal themselves. Wield impressive weapons like Magebane, the Cleaver of St. Felms and Skull Crusher. And with this arsenal, face off against the vestige of an ancient foe.
Content
[
edit
]
See Ghosts of the Tribunal Items for a detailed list of items added by the creation.

Armor Sets
Apparel
Potions
Weapons
Artifacts
Books
Factions
Keys
Places
Generic NPCs
Named NPCs
Quests
The three letters in the filename normally used to identify the author are "asv", the Tribunal's initials.
After some time and upon returning the Cave puzzle is reset and the first gate door is novice locked. Several items are respawned including two journals and three unique weapons.