Skyrim:Filnjar's House
The UESPWiki – Your source for The Elder Scrolls since 1995
This article is being developed as part of the Skyrim Houses Redesign Project. If you see this tag it means the article can still be improved. Please see the project page for guidelines.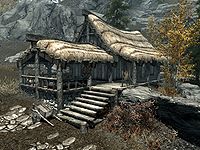 Filnjar's House is a house in the small mining settlement of Shor's Stone.
It is the residence of town blacksmith Filnjar. It consists of one area only, Filnjar's House.
As is custom with the houses of blacksmiths, all tools are located on the porch outside the house.
Residents
[
edit
]
Filnjar's House
[
edit
]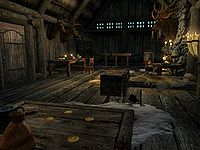 The house consists of a ground floor and a basement, the latter used mostly for storage. The front door opens to the sight of a fireplace with a cooking pot, an iron shield leaning against the fireplace, a small table with two bottles of Black-Briar mead and a copy of The Cabin in the Woods. Next to the table is Filnjar's owned bed with a minor loot chest and a pair of shoes on the floor. In the southwestern corner sits a clothes wardrobe with a blacksmith's apron on top, along with a small table that holds five gold coins, a coin purse and an iron dagger. Lastly, a food barrel stands in the adjacent corner.
To the left of the entrance stands a table with a variety of food and drinks; one bunch of snowberries, three loaves of bread, a salmon steak, a head of cabbage, one bottle of alto wine and one of regular wine and two bottles of nord mead. The shelves next to the table hold even more food, two leeks, a cluster of garlic, three potatoes, three chicken's eggs, an eidar cheese wedge, some sliced eidar cheese and a goat cheese wheel. Hanging above the shelves are three dried elves ears, two garlic braids, and one sample of frost mirriam. Finishing off the area is a food barrel in the northeastern corner, right above the stairs leading down to the basement.
The basement is spacious but pretty barebones. A food barrel stands at the foot of the stairs, next to a table with a hunting bow and three iron arrows. Adjacent to this table is another table with a single loaf of bread. In the western part of the room, past the hay piles, is a food barrel, a wardrobe with clothes, and an unlocked chest with some random gold and minor loot. More loot can be gathered from an end table that has two blacksmith's potions on top.